We often struggle to find new ways to get the family to eat more greens, surreptitiously sneaking some spinach or peas into  spaghetti Bolognese or fish pie. There's no doubt about it, plain boiled green vegetables can be pretty boring. Of course, if you are lucky enough to have  your own garden  and can grow your own veggies; freshly picked  when young then cooked  with just a knob of butter are  truly delectable. But the season is short and for most of us that isn't an option. Surely a better answer is to make the greens so tasty that they stand out on their own.
I think that I have found a solution  to boring boiled greens, with my spinach and broccoli with sesame dressing. Originally derived from the Japanese gommae style recipe, the vegetables are serve at room temperature and dressed or dipped in a luscious sesame sauce which really enhances the flavour of the spinach and broccoli. My kids can't get enough of it; Its the only time I see my son Max gorge himself on broccoli! Maybe it should have been introduced to the US  in 1990 when president Bush announced his distaste for broccoli and the market crashed. It might have saved a lot of broccoli farmers!
You can serve it up as a side dish with barbecued meat or fish. It goes brilliantly with  sushi and sashimi or just have it to nibble on  before the meal.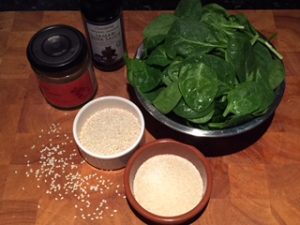 SPINACH AND BROCCOLI WITH SESAME DRESSING
difficulty: easy         servings:4
300g spinach
300g broccoli  tenderstem spears (or half head broccoli cut into spears)
1tbsp soya sauce plus 2tbsp cold water
1 heaped tablespoon of tahini
2tsp castor sugar
1tbsp sesame seeds
Steam or boil the spinach and broccoli  till just cooked then drain and plunge into cold water for a minute to stop cooking then drain again. Place the broccoli spears on kitchen paper to dry out any excess moisture and squeeze the spinach a handful at a time to remove all the excess water then coarsely chop. Take a small amount of spinach and roll into the size of a ping pong ball. Repeat the process till all the spinach is used up. There should be approx. 12 balls.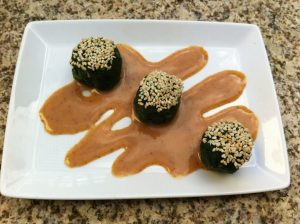 Make the dressing by mixing the sugar, soya sauce, water and tahini together. Stir till smooth adding a little more water if necessary. The sauce should be the thickness of single cream.
Toast the sesame seeds in a hot dry frying pan until they just begin to colour. Leave to cool.
To serve; Dip the spinach balls in the sesame seeds and arrange on a plate with the broccoli spears. Drizzle over the sesame sauce and serve.
These vegetables are delicious served with "Black" salmon with sweet miso
or with barbecued steak Saturday Night Dinner