Usually I like to buy fruit and vegetables in season as they taste much better and are cheaper. However I had a pear the other day which although out of season, tasted utterly delicious. Incredibly sweet and full of flavour. You can buy  William or Rocha pears in the supermarket and greengrocers at present which are perfect for eating on their own or with some cheese. The salty tang of a Pecorino cheese works really well with the subtle sweet flavour of a dessert pear when added to a salad. However today I fancied something sweet so I used some Rocha pears to make this  delicious Pear and almond tart with Armagnac.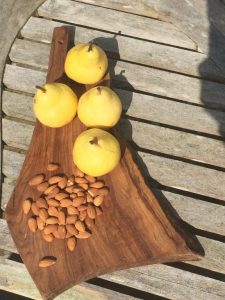 Pear and almond tart with Armagnac
Difficulty: moderate       Serves:6-8
Pastry
150g plain flour
25g ground almonds
30g icing sugar
1 egg
90g butter (cold and cut into a small dice)
Filling
100g ground almonds
60g softened butter
2tbsp Armagnac
1 large egg
3tbs castor sugar
4-5 Ripe  dessert pears

2tsp melted butter
1 tbsp apricot jam warmed with 2 tsp water
Make the pastry by placing the flour, almonds and butter in a food processor and blitz  for 30-60 seconds till the mixture resembles bread crumbs. Add the icing sugar and blitz again then add the egg and blitz till the mixture comes together to form a ball. ( You may need to add 1 tbsp of cold water if the mixture is too dry).
Place the pastry between two sheets of greaseproof paper or baking parchment and roll out into a  thin rectangle 16×40 cm. Remove the top layer of paper then using the rolling pin to help, line the tin with the pastry and peel off the other layer of greaseproof paper. Chill in the fridge for 30 minutes.
Preheat the oven to 180C. When the pastry has rested (after 30 minutes)Bake the pastry 'blind'  by placing a sheet of greaseproof paper over the pastry and covering it with baking beans or old rice. Cook in the oven for 10 minutes until the pastry is a pale golden colour. Remove the paper and beans from the pastry and return to the oven for 2-3 minutes to ensure that the pastry bottom is cooked  (as nobody likes a soggy bottom!) It should be pale golden in colour. Remove from the oven and leave to cool.
Make the filling by beating the butter, ground almonds and sugar together. Add the egg and Armagnac and mix well. Spread the almond mixture over the cooled pastry base. Peel and core the pears and slice them lengthways into eighths. Place the pears slices onto of the almond mixture and brush with the melted butter.  Bake in the oven for 15-20 minutes until the  almond mixture is cooked a golden brown.
Remove from the oven and leave to cool. Remove from the tin and glaze it with the warmed apricot jam. Serve with creme fraiche. or pear sorbet.