Broad beans and peas are  now coming into season and they  are delicious when eaten young. Peas  are a really quick vegetable to grow  at this time of year. Young peas taste delicious and are packed full of  protein, vitamin C and A  so they are very nutritious to eat. If you have never grown your own, now is a good time to start. Don't worry if you have haven't got a garden, or space is limited. You can still grow peas and just harvest them as pea shoots. All you need is  a sunny windowsill,  and you can keep harvesting your pea shoots all summer long. For more information on growing peas check out How to grow pea shoots which is packed full of useful tips.
Using young  green vegetables in risottos is a fabulous way of showing off their deliciously delicate sweet  flavour. Whether you are making a risotto for one or for a bunch of friends, the basic principles for risotto are the same. It is  also essential that you don't over cook the vegetables leaving them slightly al dente to retain their flavour and nutrients.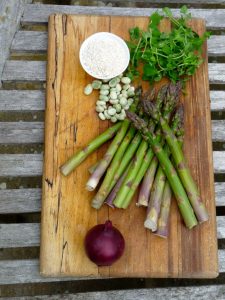 Asparagus broad bean and pea shoot risotto
Difficulty: easy            Serving : 2
100g risotto rice
8 asparagus spears  stalks finely sliced, spears  cut in half horizontally
2 large handful young broad beans (can be frozen)
1 onion finely chopped
8-10 pea shoots
50g parmesan
1 tbsp olive oil
1/2 glass dry white wine or dry vermouth
700ml approx. of  hot vegetable or chicken stock
zest of a lemon.
Place the broad beans in boiling water and cook for 1 minute then drain and refresh in cold water.  Skin the broad beans by using your thumb and forefinger, gently squeeze each bean so that the  bright green bean pops out. Discard all the skins and reserve the beans.
Sauté the onion in the olive oil over a medium heat for 5-10 minutes until it starts to soften.  Remove from the heat and add the rice and stir well for a minute until the rice   has absorbed the oil.  Return to the  heat and add the white wine. Cook for a couple of minutes to reduce and burn off the alcohol. Stir in a ladleful of hot stock  (just enough to cover the rice) and cook over a medium heat, stirring  till all the liquid has been absorbed. Add another ladleful of stock and continue the process. After 10-12 minutes add the asparagus and the last of the liquid. Stir well. Cook for 3-4 minutes then check to see if the rice and vegetables are cooked (the rice should be creamy but still a little al dente). Stir in the lemon zest, beans and parmesan and top with the pea shoots before serving.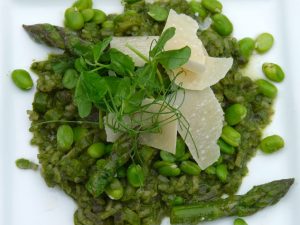 Little tip: If you want to add a little more 'green goodness', blitz a handful of chopped kale with a little water and add  to the risotto in the last 3-4 minutes of cooking.