Raymond Blanc, who is a maestro when it comes to cooking vegetables, described the best way to cook Jersey royals; firstly, place them in a pan of cold water and bring them to the boil. Then turn down the heat to a gentle simmer and cook them for 10 minutes, turn off the heat and leave them to stand in the water till soft. This way you don't burst the skin and  release all their flavour into the water.
Jersey royals have been in season a while, with harvesting usually beginning in March, and are at their peak right now. The mild weather this year has meant that this years crop has produced quite large sized potatoes. Which has sadly has put off many customers who expect the smaller ones.  However, the size has not affected their taste. So please do buy them and support the Jersey farmers. They are absolutely delicious when served boiled with a large knob of butter, however if you haven't gobbled them all up when warm, this is a great way to use up any potatoes that you may have leftover.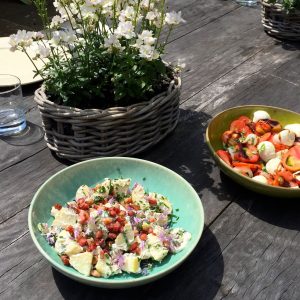 Potato salad with crispy pancetta and chives
Difficulty: easy             Serving : 4
2 cups of cooked new potatoes
100g pancetta cubed
1 bunch chives finely chopped
2-3 tbsp good quality mayonnaise
sea salt and freshly ground black pepper
Cut the new potatoes in half lengthways then slice into 1cm pieces. Place in a bowl with the mayonnaise and 3/4 of the chives and season with salt and pepper. Fry the pancetta in a pan (no oil) till crisp and drain on kitchen paper. Add half the pancetta into the salad and top with the remaining chives and pancetta. Serve immediately.
For a more substantial salad/ light lunch, add  3-4 hardboiled eggs.