Herbs are one of the easiest things to grow, whether in the garden or in pots on a windowsill. They are also incredibly rewarding; as you  keep snipping they will keep growing back, giving you wonderfully  fragrant leaves with which to cook with all summer long.
There are three main groups of herbs.The perennial herb such as rosemary or bay which is a shrub and is hardy so you can grow outside and  harvest the leaves all year round. The biennial, parsley which has a two year life cycle and in colder climates will remain dormant in the winter. ( Although my parsley usually grows all winter long in my raised beds!) The annual herbs like basil which you need to grow from seed every year.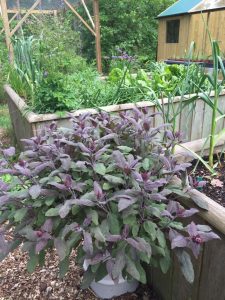 June is probably the best month for my garden with everything starting to look lush and verdant. The veggie patch is  growing madly and I am beginning to harvest the first courgettes of the year. The herbs have gone berserk with this warm wet weather. So I need to get harvesting. As herbs are better cut down regularly, it often is a great time to dry some of the leaves and then you can make  your own version of "herbs de Provence" or herb salts. Both are great to have in store over the winter.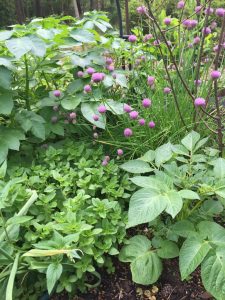 I picked my first yellow courgettes this morning. When tiny they are delicious when finely sliced (carpaccio style) and marinated  in  a little lemon juice and olive oil.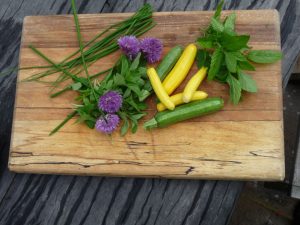 I added some freshly chopped mint and chives, seasoned it well with salt and pepper then sprinkled over a few lightly shredded chive flowers and Parmesan shavings. From garden to plate in 5 minutes. Now thats what I call fast food!