One of my sons friends at uni (who I'm pleased to say is an avid follower of this blog) sent in a request for a seafood food risotto this week. I love risotto and cook it often at home. If I'm 'home alone' I often forage in the garden for ingredients to add to the risotto. Cherry tomatoes and courgettes have become a staple of mine. 'Green' risotto, also another favourite, has asparagus, leeks and herbs (see my Asparagus and leek risotto for one). I've even made quite a tasty 'wild' risotto from nettles! However when the husband and kids are at home or I have friends around I try and make something a little more elaborate.
There are many different types of seafood risotto. However the basic method of cooking the rice is the same.The seafood is then usually added near the end of the cooking (in the last 4-5 minutes) For a rich seafood risotto I use a tomato base, adding tomatoes and a little chilli to the rice. Black risotto has also quite a rich flavour, using squid ink to flavour it and colour the rice a wonderful inky black! To add a twist of the exotic to your risotto use saffron which gives the rice a wonderful subtle flavour.
Seafood risotto with saffron, prawns and crab
Difficulty: medium                            Servings: 4
1 bulb fennel finely chopped
2 cloves garlic finely chopped
1 tsp fennel seeds toasted in hot pan and crushed
2g saffron threads
280g risotto rice (Carnaroli, Aborio or Vialone nano)
2 large salad tomatoes
1 litre hot fish, chicken or vegetable stock
1 glass dry vermouth or white wine
1 dressed crab
12-16 raw tiger prawns
1 tbsp olive oil and a little sea salt and black pepper
Place the tomatoes in a bowl, prick the skins with a knife and pour over some boiling water till completely covered. Leave for 1 minute, discard the water and remove the skins and dice.
Heat the oil in a frying pan and sauté the fennel gently over a medium heat for 6-7 minutes until soft. Add the rice and stir well.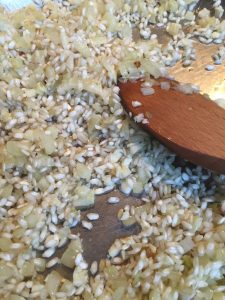 Add the garlic, saffron, fennel seeds and chopped tomatoes and a ladle of hot stock. Stir well. Cook over a gentle heat string occasionally until all the liquid has been absorbed. Add another ladleful of stock and repeat until all the stock has been used (this takes about 12-15 minutes). Add the wine /vermouth and turn up to a high heat stirring continuously, cook for 2-3 minutes to burn off the alcohol. Add the prawns and cook for 2-3 minutes then turn the heat off. Stir in the dressed crab and season well.
Serve immediately with a good bottle of Tuscan red wine or a white Verdicchio.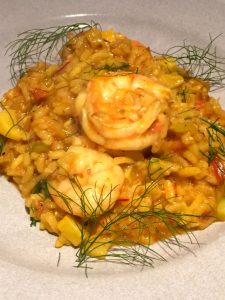 This dish works very well with mussels, clams or with a firm white fish such as monkfish.