This year I decided to plant some edible flowers to add to my kitchen garden and, for a first attempt  (though I say it myself!) they have been a huge success. The flowers are a wonderful vibrant addition to the rather green look of my vegetable garden. Not only do the flowers look good but somewhat  surprisingly for something so beautiful, they pack quite a punch of flavour too. The hot red, orange and yellow colours of the Nasturtium flowers have quite a peppery taste and are a delicious addition to salads. The delicate deep blue sage flowers have an even more pungent sage flavour than their leaves, and are great when sprinkled over some barbecued pork or chicken.   Lavender blue chive flowers have a subtle onion flavour and are a great addition to potato salad. Courgette flowers have a very delicate flavour and are best dipped in tempura batter and deep fried. See my recipe for Crispy courgette flowers;' Zucchini Fritti' .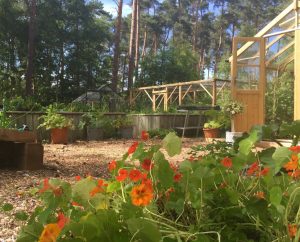 *I prefer to make my own Vietnamese dressing for this salad but  if you are in a hurry you can buy ready made Vietnamese  dipping sauce or dressing in most good supermarkets and oriental shops (good to keep in your store cupboard). You can use it as a dipping sauce for the zucchini fritti or as a dressing in salads.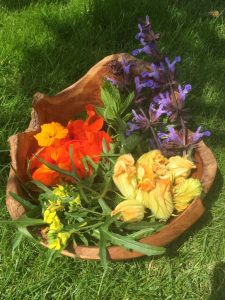 Skinny summer salad with edible flowers
Difficulty :Easy             Serving :2
1 courgette
1 carrot peeled
7-8 cherry tomatoes halved
1 red pepper deseeded and thinly sliced
small handful of mint leave chopped
a few nasturtium, chive and sage flowers (or whatever is available)
2 stp sesame seeds toasted
1 handful rocket
1 bunch bean sprouts (washed)

Dressing*
1/2tsp sugar
1tsp fish sauce
1/2 red chilli finely chopped
1/2 small clove garlic crushed
1tbsp water
1/2 tsp vinegar
Heat the water and sugar together until the sugar has dissolve then add the remaining ingredients and mix well. Taste the sauce for sweet/salty/sourness (adding more sugar/fish sauce/vinegar to taste).
I often make the sauce in larger quantites and keep it in the fridge for a week.
Place all the ingredients for the salad in a bowl.  Add the dressing and toss well. Season with a little salt and pepper.  Serve immediately before the flowers wilt.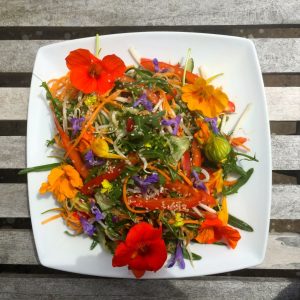 Avocado  with a squeeze of lime juice works really in this salad too.