I have just come back from spending a few glorious days in the Le Marche region of Italy. Gastronomically, Italy ticks all the boxes for me, as each region has its own particular type of cuisine distinctive to their terrain. If you go down to Naples and the Amalfi coast, the tomatoes have such an intense flavour due to the rich soil from the foothills of Mount Vesuvius. Cook them with a pinch of salt, a few drops of local olive oil and some spaghetti and you have an exquisite dish.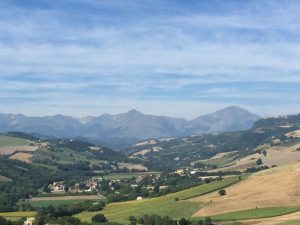 Le Marche is on the Adriatic coast and spans up into the Sibillini mountains. Not wanting to sound like a travel guide, but I have to rave about their food. Spankingly fresh fish, fantastic vegetables and wonderful rich meaty ragouts, and all so cheap too! I really did not want to come home.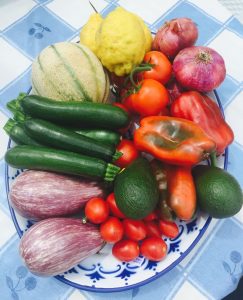 Panzanella is a wonderful rustic Italian dish, originally from the Tuscan region, it is made from stale bread. Leftover cibatta from the day before is perfect to use in this dish (fresh bread won't be nearly as good as it will collapse into a soggy mush). The stale bread soaks up all the delicious flavours from the tomatoes, anchovies and capers. Traditionally the dish is made from tomatoes, roast peppers, capers, anchovies, onion, garlic, basil, salt, olive oil and vinegar which are then mixed together with the stale bread making a deliciously satisfying meal. A kind of 'poor man's feast. I often vary the dish slightly depending what ingredients I have to hand. In this recipe I had rather a glut of tomatoes so I used half fresh and half semidried tomatoes, and omitted the roast peppers.
Panzanella
Difficulty;easy                     Serving :4
1/2 stale cibatta
6 ripe salad tomatoes
*2 red peppers roasted or 6 tomatoes roasted **
1/2 red onion finely chopped
1 clove garlic crushed
1tbsp capers rinsed and drained
1 small tin of anchovies
6 small gherkins chopped
2-3 tbsp good quality olive oil
1tbsp red wine vinegar
a handful of basil leave torn
Cut or tear the bread into 2cm pieces and place in a bowl with the gherkins, capers and anchovies. Roughly chop the tomatoes  (into 2cm pieces) and place them in a collander over the bowl with the capers and bread in. Sprinkle a large pinch of sea salt over the tomatoes and leave to stand for 20-30 minutes. Now  add the tomatoes to the bread mixture with the roast tomatoes (or peppers if using). Mix well and dress with the olive oil and vinegar. Tear in the basil leaves and season with salt and plenty of freshly ground black pepper to taste. Leave to stand for at least one hour (or up to 24) before serving.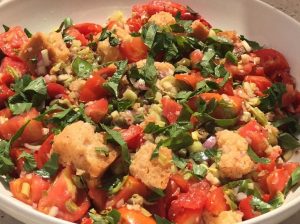 * To roast the peppers, place over a naked flame or under a hot grill till the skin begins to blacken. Rotate the peppers until completely black then place in a plastic bag to cool. When cool, remove from the bag, scrape of the blackened skin, cut in half and remove the seeds and cut in strips.
**To slow roast the tomatoes, cut them into quarters and place on  greaseproof paper on a baking tray . Season with salt and pepper and a drizzle of olive oil and roast at 150C for 40-45 mins.
Little tip:  If you are short of time, you can buy roast peppers in jars, and /or sun blush tomatoes in the delicatessen section of most supermarkets.