I never quite understand why here in the UK we don't seem to eat nearly as many beans as our contemporaries on the continent. Not only are they highly nutritious and a great asset to our diet but they are extremely tasty and cheap too. So why don't we eat more? With the exception of baked beans (which I grant you we do tend to scoff in large quantities) there is a huge variety of different beans out there which are left by many of us untouched. So I thought I'd give you a quick guide to my top 6 beans.
Cannellini beans (my favourite) are a wonderful creamy white bean which have a glorious rather delicate taste. Delicious when served hot or cold on their own, they are also a wonderful addition to soups and stews.
Flageolets beans are slightly smaller than cannelleni and are a pale green colour. These are excellent when sautéed with a little garlic and bacon in casseroles with lamb or duck.
Chilli beans (similar to the pinto bean) are small and round and are great in chilli or served as refried beans with bacon and eggs.
Red azuki beans, like their black relatives, are sweet and relatively easy to digest, so they won't make you as gassy as other beans.  They also don't take as long to cook and are delicious when added to salads or turned into a fermented red bean paste.
Fava beans, Broad beans or Butter beans taste much better when served young and fresh and their delicate flavour works very well with chicken or fish.
Borlotti or Cranberry beans have a great nutty flavour and are good in stews and soups.
You can buy beans fresh when in season, in their dried state, in tins or some beans can be found ready prepared in jars. These are a great store cupboard addition, when you need to whip up a meal in a flash. If you ever visit Italy or France buy them in the local supermarkets as they are much cheaper than buying them here in the UK.
So back to my bean salad recipe which is a really quick dish to make and unlike a lot of salads which revert to mush after an hour or two, this actually tastes even better the next day so is a great one for making in advance.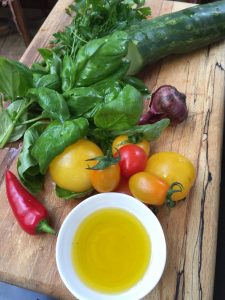 Tuna, tomato and cannellini bean salad
Difficulty: easy                    Serving: 4
1x820g jar of cooked white beans (or 2x 400g tins )
300g tinned tuna (I prefer the albacore variety if you can get it)
1 large bunch of basil
1 small bunch parsley
1 red chilli
1 small cucumber diced
1 medium red
juice of a lemon
3 tbsp olive oil
1tbsp sesame oil
sea salt and freshly ground black pepper
Drain the beans and tuna and place in a bowl with the olive oil and lemon juice and season well with sea salt and black pepper.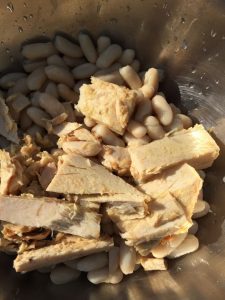 Finely chop the red onion and chilli and place them in the bowl with the tuna and beans. Cut the tomatoes in half and peel and dice the cucumber and add them both to the beans. Chop the herbs and  add to the salad with the sesame oil. Mix well and season to taste adding more lemon or oil if necessary.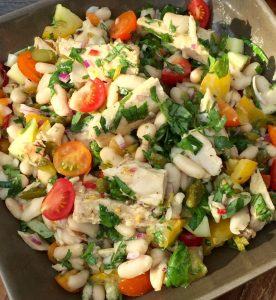 Serve at room temperature with some crusty ciabatta bread.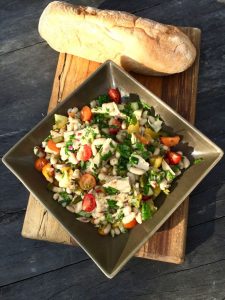 If you want more information on beans check out this link on the Cook's thesaurus  http://www.foodsubs.com/Beans.htm