Pasta pesto, was the first pasta dish my son learnt to make, and it still remains one of his favourites today. There is something really comforting about a bowl of spaghetti coated in a rich basil, Parmesan and pine nut sauce which always never fails to deliver. This recipe I think actually surpasses the traditional pasta pesto by the addition of sausage, onions and a little cream. The flavours intensify to a different level of deliciousness. It still has the wonderful aroma of basil, but with the introduction of sausage it gives the dish more taste and texture.
Italian sausages work best with this dish as they have a unique blend of seasoning and spices and made of pure sausage meat. However if you cannot get hold of these you may still make it with your favourite sausage (pork and leek are good). Just remember to remove the skins from the sausages and mash them up whilst you are cooking them with the onions.
Linguine with sausage and pesto recipe
difficulty : easy                              Serving : 4 generous portions
3 Italian sausages skins removed
1 onion peeled and finely chopped
150ml whipping cream
400gg linguine
Pesto
2 cups basil
100g pine nuts (or 50g almonds 50g pine nuts) toasted
2 large cloves garlic
100g  gratedParmesan
30g  grated Pecorino
1/4 cup olive oil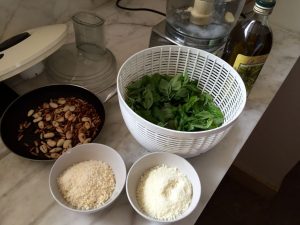 Make the pesto by placing the garlic nuts and 1/4 of the basil in a blender and blitz together. Add the remaining basil with a one ice cube (this keeps the pesto green) blitz very quickly then drizzle in the olive oil then add the cheese. season with plenty of black pepper and a tiny bit of salt to taste (be careful as the cheese is quite salty).
Place the onions in a frying pan with a teaspoon of olive oil, cook slowly for 2-3 minutes then add the sausages over a low to medium heat.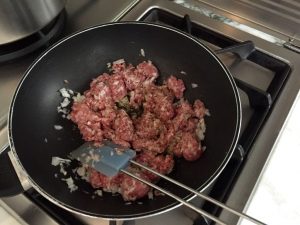 Cook slowly for 5-6 minutes then add the cream.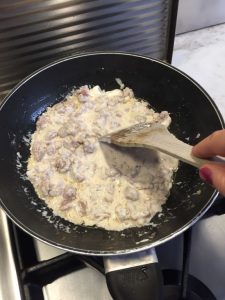 Turn up the heat and cook for a 2-3 minutes so that the cream reduces by half then remove from the heat and stir in the pesto. Check for seasoning and reserve.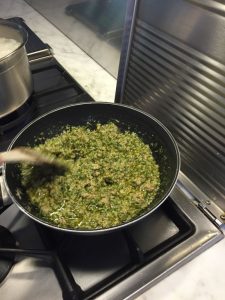 Bring a large pan of water to the boil, add a large dash of salt and cook the linguine according to packet instructions for al dente. Drain the pasta, reserving half a cup of the pasta water. Toss the pasta in the pan with the pesto and serve with a little more grated Pecorino or Parmesan.