Now autumn is firmly upon us and the nights are turning quite chilly. It's a great time to make bowls of warming soups and one pot meals. The type of food which make you feel as though someone is giving you a nice big hug and at the same time satisfying your stomach as well as your tastebuds. Dhal definitely high up there in the list of comfort in a bowl. Whether you like it creamy, or mild, peppery or pungent, dhal satisfies you and gives you a wonderful feeling  of contentment simultaneously.
Here are a few little tips about red lentils. Red dahl is very quick and cheap to make. Unlike other pulses, red lentils only take about 10 minutes to cook and cost around £1.50-2.00 a kilo. So they are great when cooking on a budget. (Oriental and Middle Eastern supermarkets usually sell the cheapest lentils).
Lentils are also very healthy as they are low in fat, high in fibre and are a great source of protein. I keep telling my son whose at uni, that red lentils are 'superfood' for students. "Quick, cheap and healthy!" As in my recipe, The joy of lentils; Hot and spicy lentil and chilli soup with mint and yogurt
To make a quick red dhal, finely chop an onion and sweat in a little oil with a clove of garlic for 3-4 minutes then add the lentils (allow 40g per person)    with 2.5 x the volume of stock or water. Add a good pinch of cumin and boil for ten minutes or until lentils are soft and serve.
In this recipe below I have added a few different caramelised vegetables to the dhal which gives different flavours, textures and adds a new dimension to the dish. There are a few different processes, but don't be put off. You can make the roasted vegetables in advance and just add them at the last minute.
Red dhal with caramelised onions beetroot and candied tomatoes
Difficulty: moderate                 Serving: 4
2 red onions
200g cherry tomatoes halved sprinkled in 1tsp of sugar and 1tsp salt
3-4 beetroot peeled and cut into dice sized cubes
2 cloves garlic crushed
1 red chilli deseeded and finely chopped
1tsp fennel seeds
1tsp cumin seeds
1 tin  chopped tomatoes
1 cup red lentils
2.5 cups of water or stock
2tbsp light olive oil
1 handful of fresh mint chopped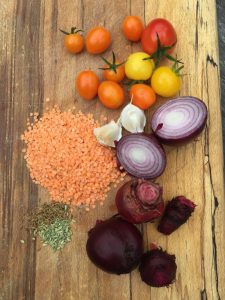 Preheat the oven to 150. Place the halved cherry tomatoes on a sheet of greaseproof paper on a baking tray and bake in the oven for 30 minutes. Remove and leave to cool.
Dry roast the cumin and fennel seeds in a frying pan for 30 seconds till they begin to colour then blitz in a spice grinder (or crush with a rolling pin).
Fry the beetroot  over a medium heat in 2tsp of olive oil for 5 minutes. Add a cup of water and cook over a high heat another 5-6 minutes till the beetroot is soft and all the water has evaporated.
Peel and dice one red onion and place in a frying pan with 1tbsp oil and cook over a medium heat for 5 minutes. Add the chilli, garlic and crushed spices and cook for 1 minute. Add the tinned tomatoes, lentils and water and bring to the boil and simmer for 10 minutes until the lentil are soft. Season with a little salt and pepper to taste.
Whilst the dhal is cooking, slice the remaining onion add a pinch of salt and fry with 2tsp of olive oil over a medium heat for ten minutes until the onion is crisp and bronze in colour.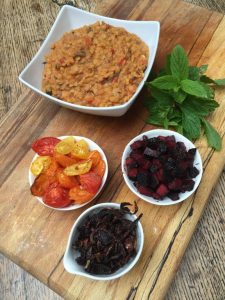 To serve. Place the cooked dhal in a bowl. Add the beetroot and tomatoes and sprinkle over the caramelised onions and mint and serve.