I have made thousands of canapés over the years, but I still get quite excited about creating these tiny bite size mouthfuls of lusciousness, bursting with flavour when popped into your mouth.  The secret with canapés is to make them really small, they should be no bigger than a 10 pence piece, this is important as having chicken parfait dribbling down your party dress is not a good look, trust me! They also should look fabulous. Miniature versions of Welsh rarebit or salmon en croute just crying out to be eaten. I know that sometimes they can be a bit fiddly to make but homemade ones are well worth the effort and much tastier than the preprepared version.
These little jellies are delicious and are perfect for the Christmas party. Not only do they look fantastic, sparkling with gold or silver leaf but they are very easy to make. The only tricky bit is putting on the gold leaf, and if you find that too fiddly you can always sprinkle over a little edible gold dust instead.
Schnapps jelly with star anise and chilli recipe
Difficulty: moderate (jelly is easy, gold leaf a little bit harder)
Makes: 50 jellies approx.
700 ml peach schnapps (I usually use Archers)
1/2 red chilli seeds removed and chopped
3 star anise
150g sugar
200 ml water
6 strips of lemon peel
1-2g gold leaf
12 sheets of gelatine
Line a 25cmx25cm loose bottomed tin or baking tray with cling film.
Heat the water, sugar, chilli, lemon zest and star anise in a pan and bring to a simmer. Stir till the sugar has dissolved. Simmer for 10 minutes. remove form the heat and add the schnapps.
Place the gelatine leave in a bowl with cold water.
Remove the gelatine from the cold water and add to the warm schnapps and stir well and leave for 5 minutes to cool. Strain through a fine sieve into the cling filmed lined tin and chill in the fridge for a minimum of 2 hours to set. (This maybe done the day before).
When the jelly is set, place a chopping board over the tin and flip over the tin. The jelly should now be on the board. Peel off the cling film and cut into small dice sized cubes. The next bit can be a little tricky so have a little patience. Take a small clean paint brush and carefully pick up a small piece of the gold leaf and place it on each square (you only need a tiny piece to be effective). Make sure that only the brush touches the gold leaf (not the metal as it will stick). repeat with the remaining jellies.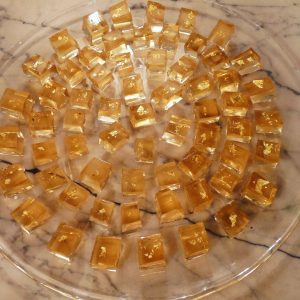 The jellies will keep for a week in the fridge and are great  to give as gifts or serve with drinks.