I'm not a huge fan of the traditional Sunday roast with all the trimmings, The food maybe delicious, but the huge pile of washing isn't so appealing. So over the years my husband has started barbecuing the meat  (no pan to wash up!) and I usually make some salads or veggies before so  Sunday lunch has become far more relaxing
Last weekend despite it being almost December we still had a barbecue but this only meant that my husband  had to pop outside for a few minutes to cook some lamb cutlets and aubergine and then we could all enjoy them in the comfort of a nice warm kitchen and no washing up.
Don't worry if you are not a barbecue purist like my husband, you can still make this recipe on the stove using a hot griddle pan and it will still taste delicious. Everything is served on one big platter so you can just help yourself.  It might look like a lot of different processes but they are very quick to make and the onions and hummus maybe made in advance. If you have hungry bunch of people over, I usually warm up some pitta or flatbreads as well.
Spiced lamb cutlets with Moroccan mezze recipe
Difficulty: easy                                       Serves: 4
Lamb cutlets
4 lamb cutlets
2 tsp smoked paprika
2tsp olive oil
a little sea salt and black pepper
Mix the paprika and the oil together and a little sea salt and pepper and rub this mixture into the lamb cutlets and leave to marinate for 30 minutes. (start the barbecue now).
When you have prepared all the other side dishes below, cook the cutlets on the barbecue or hot griddle pan for 3-4 minutes either side then arrange on the platter with the side dishes below.
Hummus
1x 400g chick peas drained
juice of 1/2 lemon (or more if you like it citrusy)
1tbsp light tahini
2-3tbsp olive oil
2tbsp water
1/2 clove garlic crushed
Place all the ingredients in a blender and blitz together. Season to taste with sea salt and freshly ground black pepper.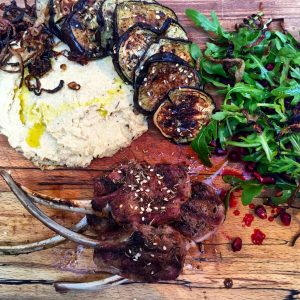 Grilled aubergines with Zatar
2  medium sized aubergines sliced about 1cm thick
1-2tbsp tatar (this is a sesame based seasoning that you can find in the spice section of most good supermarkets)
a little olive oil and sea salt and black pepper
Cook the aubergine slices on the barbecue or hot griddle pan for 2-3 minutes either side till they have softened and turned a nice brown colour. Remove from the heat and drizzle over a little olive oil and season with salt and pepper and the zatar. Mix well and place on a large platter.
Crispy onions
3 red onions thinly sliced
1 tbsp olive oil
1tsp sea salt
Fry the onions in the oil and salt for 10-15 minutes until they are nice and crisp. Remove from the heat and drain on a piece of kitchen towel.
Pomegranate salad
1 pomegranate
2 bunches (or one large packet) of rocket washed
1 handful of pumpkin seeds toasted
balsamic vinegar and a little hazelnut oil
Cut the pomegranate in half and remove the seeds and place in a bowl. Add the rocket season with a little salt and pepper.