There is not much happening in my kitchen garden at this time of year apart from kale and spinach which is happily thriving. Now after after a couple of frosty nights most of my salad has ended up on the compost. However there is lettuce which has survived the cold tendrils of winter and that is the chicory (or radicchio) which amazingly enough is looking quite healthy.
Red chicory unlike the white version does not need to be forced so it is much easier to grow. It has a wonderful slightly bitter taste which works well in salads.  It's a great accompianment to nuts and cheese, and when wrapped in pancetta and thyme and roasted in the oven, it is delicious served with roast meat and game.
This recipe below is a great colourful and tasty winter salad and is a particularly good salad to have at Christmas. It balances out all the other rich food
and is wonderful served with cold turkey on boxing day.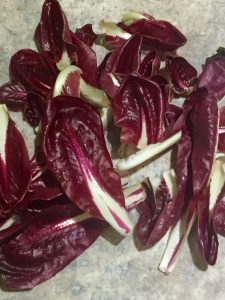 Red chicory apple pecorino and spiced cauliflower salad recipe
Difficulty: easy                       Serves:2
2-3 bulbs of red chicory
1 apple
4-5 cauliflower florets
1tbsp olive oil
1tsp smoked paprika
30g Pecorino
1 handful toasted hazelnuts chopped
white balsamic vinegar (or white wine vinegar if not available)
1tbsp hazelnut oil
Slice the cauliflower florets about 0.5 cm thick and place in a bowl with the paprika and olive oil and season with a little salt and pepper. Toss together. Heat a large griddle or frying pan till hot then sear the cauliflower for 2-3 minutes either side till it starts to colour. Remove from the pan and reserve.
Wash the chicory and place in a bowl. Cut the apple into match sticks and add to the bowl with the cauliflower. Dress the salad with a little white balsamic vinegar and hazelnut oil and season with a little salt and pepper. Sprinkle over the chopped hazelnuts and using a potato peeler, shave the Pecorino over the top.