I seem to be craving for all things fishy at the moment. After the Christmas carnivore blowout my body needs something a little lighter to run on. Salads are all very well but its cold outside so I'm looking for something to warm me up, satisfy me, but at the same time I don't want to feel over stuffed, bloated and guilty for having eaten some calorie rich food.
We all know fish is good for you, loaded in protein and nutrients and the best source for omega rich fatty acids, for a healthy mind and body. It is also much easier to digest and most importantly for me, it's quick to cook and delicious to eat.
Although I have made many variations of this fish stew over the years, this one is definitely my favourite. The subtle tomato, fennel and pepper sauce is infused with sweet delicate threads of saffron, making it the perfect base to show off all those gorgeous the fruits of the sea. You can make the sauce in advance and just add the fish at the end making it a quick and easy supper to prepare at the last moment. You can also vary what fish you use. I recommend firm white fish (monk fish is also good but can be a little pricey).
Fish stew with peppers saffron lemon and clementine recipe
difficulty: easy serves:4
8-12 prawns peeled deveined and head removed
500g white fish i.e. haddock,cod,pollack,hake (choose fish from a sustainable source if possible)
300g cherry plum tomatoes halved(or 1 tin chopped tomatoes for a more robust sauce)
2 red peppers deseeded and sliced
1 large bulb fennel finely chopped
2g saffron threads
2 small cloves garlic crushed
1/2 lemon very thinly sliced (skin on)
1 small glass white wine or dry vermouth
1/2 clementine very thinly sliced (skin on)
1tbsp tomato puree
1tbsp olive oil
sea salt and freshly ground black pepper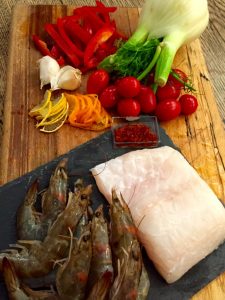 Sauté the fennel with the olive oil in a large heavy based frying pan over a medium heat for 5 minutes until the fennel begins to soften. Add the peppers and cook for another 3-4 minutes then add the garlic and cook for another minute. Pour in the white wine and add the saffron, tomatoes, puree, lemon and clementine slices and a glass of water and bring to the boil then turn down to simmer for 10 minutes.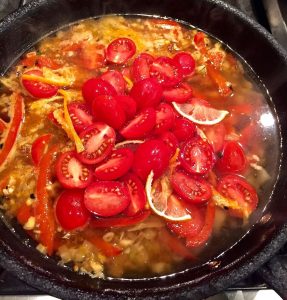 The sauce should now have reduced and be quite thick. Season with a little salt and pepper to taste. (You can make this sauce to this stage in advance, if making in advance make sure you heat the sauce first before adding the fish).
Remove any skin from the fish and cut into 2-3cm pieces. Place the prawns and fish into the pan with the hot sauce and turn up the heat and cook for 3-4 minutes carefully turning the prawns and fish over after 2 minutes. Remove from the heat and serve with some crusty bread and a crisp white wine.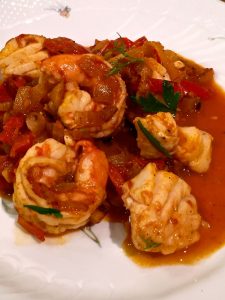 Tip: To make the dish a little more citrusy you can take 2 clementines and cut the in half horizontally. Place them flesh side down on a hot griddle or frying pan and cook for 2-3 minutes until the flesh begins to char. Remove them from the pan and add them to the dish at the end.