The wonderful thing about the term curry is that it covers a huge variety of flavours and textures. From the mild and fragrant with just a subtle hint of spice, a creamy rich coconut or full on, blow your socks off eyewatering hot, whatever tickles your fancy. There is something for everyone.
Curry also doesn't need to be the calorie rich takeout versions after a heavy night out. It can be quite healthy if you make it yourself. Vegetable curries are very cheap to make so great for those on a budget ( poor students read on). You can buy good ready made Thai curry pastes from oriental supermarkets (which are much cheaper and tastier than the supermarket versions). Although I tend to make up a batch of my own curry paste and it will keep quite well in the fridge(1 week) or freezer for a couple of weeks.
This crab curry recipe is deliciously fragrant using plenty of kaffir lime leaves and lemongrass. It's also quite mild so as not to overpower the sweet delicate flavour of the crab. However if  you prefer a hotter version just add more chilli or Thai curry paste and switch the crab for prawns which can take the heat better. You can also make the base of the curry in advance and just add the fish, herbs and courgette at the end. (Very easy if entertaining). I have made my own chilli paste for this recipe but you can use ready bought Thai red or yellow curry paste(a tablespoon is usually plenty) and add some extra lemongrass, Kaffir lime leaves and lime zest for a quick cheats version.
Thai crab curry with lemongrass and kaffir lime leaves
difficulty: moderate           serves: 4
300g white crab meat/1whole crab picked reserving the claws.
2 tins coconut milk
8 kaffir lime leaves*
1tbsp sunflower oil
1 small bunch corriander
1small sweet potato peeled cut into 1cm cubes
2 handfuls cherry tomatoes
1 courgette
zest and juice of a lime
fish sauce to taste
Curry paste
3 cloves garlic crushed
2 red/yellow finger chillies deseeded and chopped
1 shallot /1/2small onion chopped
2 sticks lemongrass outer leaves discarded inner part chopped
4cm piece ginger peeled and grated
1tsp coriander seeds dry roasted and crushed
1tbsp turmeric
1tbsp mild curry powder
4cm galangal peeled and grated
2tbsp chopped coriander leaves and stalks
Blitz all ingredients together ( in a spice grinder if you have one) to a paste.
Make the curry by frying 2tbsp paste in pan (add a little more for stronger flavour)with the sunflower oil stir for 1minute over a gentle heat then add the coconut milk curry and kaffir lime leaves and sweet potato. Bring to the boil then turn down the heat to simmer for 10-15 minutes until the potato is cooked. (This stage maybe done in advance ).
Using a julienne peeler, peel the courgette into julienne (or cut into a small dice if no peeler available). Add the cherry tomatoes to the curry and cook for 3 minutes then add the courgette and lemon zest.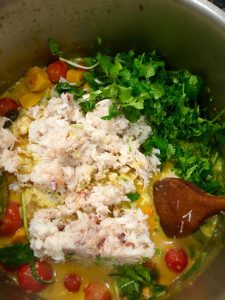 Bring to the boil then remove from the heat and stir in the crab and coriander. Season with Thai fish sauce and the lime juice to taste and serve with Thai jasmine rice or steamed basmati rice.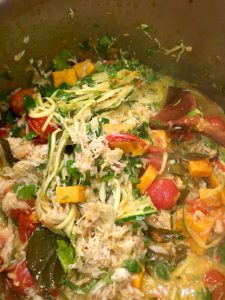 *Kaffir lime leaves are much cheaper bought frozen in oriental supermarkets and keep well in the freezer till needed.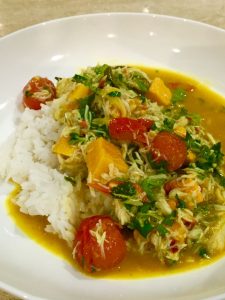 ---