I have been rushing around a lot recently so meals have been rather thrown together at the last minute. In another vague attempt to teach my father to cook, we made  fillets of  plaice with pancetta and mushy peas last night. I use the term "we" somewhat loosely, as our cooking lessons usually consist of my father propped up on a bar stool with a large glass of wine, whilst he watches me cook. Occasionally he makes the odd comment of 'what's the green stuff in the blender?' or 'are you sure we have enough bacon?' but otherwise he is more content in observing the cooking process and really enjoys the eating afterwards! Still I think we are progressing with his culinary skills, and the kitchen does'nt feel quite so alien to him now.
Plaice is a delicious fish to eat and a much cheaper option than lemon or dover sole. Bake it whole in the oven with a little butter, lemon and thyme, or serve the fillets pan fried in a little butter or olive oil. They are also delicious when rolled in breadcrumbs and Parmesan and made into goujons.
Plaice fillets can vary quite considerably in size. If the fillets are very small I tend to allow 2-3 fillets per person. However sometimes the plaice fillets are huge so 1 fillet per person is plenty. It is best to allow 180-200g net weight per person (after the fish has been skinned.)
Pan fried fillets of plaice with pancetta and mushy peas recipe
Difficulty:easy                          Serves:2
4-6 fillets of plaice skinned
75g pancetta slices
200g frozen peas
1tbsp single cream
1tbsp olive oil
sea salt and freshly ground black pepper
1/2 lemon
Cut the fish fillets into two along the centre (there is a natural line down the middle). Put the fish fillets in a bag or on a board with the oil, and season with a little salt and pepper and mix well.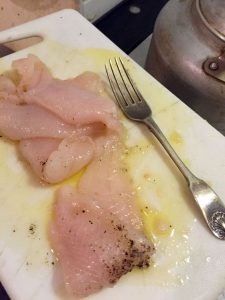 Cook the peas in boiling water for 2-3 minutes then drain and place in a blender or nutribullet with the cream and blitz until smooth. Season with a little salt and pepper and keep warm.
Fry the pancetta slices in a large frying pan  till crisp. (about a minute on each side). Remove from the pan and drain on kitchen paper and keep warm.
Using the same pan, fry the fish fillets in batches for a 1-2 minutes. As soon as the edges turn opaque flip over and fry for another minutes or two.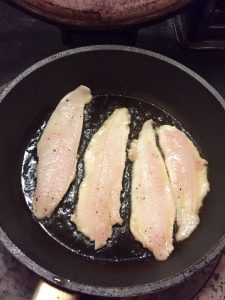 When the fillets are cooked, (they should look opaque and feel just firm), remove from the pan and place on two warmed plates. Squeeze a little lemon juice over the fillets and top with the pancetta. Serve the mushy peas on the side.