Jerusalem artichokes are a wonderful vegetable to eat at this time of year. When roasted, they are deliciously sticky and caramelised on the outside, and then wonderfully soft and gooey in the middle. A perfect accompaniment for roast chicken or beef.
This time however, instead of having the Jerusalem artichokes as a side dish, I thought it would be a good idea to make them centre stage. The gnocchi and the sautéed vegetables are a great base to show off  the roasted artichokes, and the pesto adds a wonderfully nutty dimension to the dish. A little tip when cooking gnocchi is to cook it 'al dente',(particularly if you are going to sauté it after boiling.) This way the gnocchi does not become stodgy and flabby.
Gnocchi with roast Jerusalem artichokes tomatoes and hazelnut pesto recipe
Difficulty: easy                                        Serves:4
400g Jerusalem artichokes peeled halved length ways, then  cut into 5cm pieces
500g fresh potato gnocchi
1 bulb fennel cut into a small dice
300g cherry plum tomatoes halved
2 medium to large courgette cut into dice size pieces
1 clove garlic crushed
1 tsp chilli flakes
3tbsp olive oil
freshly grated Parmesan
Preheat the oven to 200C. Place the artichokes on a roasting tray and toss in 1 tbsp olive oil and season with a little salt and pepper. Roast in the top of the oven for 20-25 minutes until soft golden and sticky. Remove from the oven and keep warm.
Whilst the artichokes are cooking make the 'sauce' for the gnocchi and the pesto (see recipe below).
Sauté the fennel in 1tbsp olive oil  in large heavy based frying pan over a medium heat. After 5-6 minutes the fennel should begin to soften. Add the garlic and chilli and cook for 30 seconds stirring all the time so that the garlic does not burn. Add the courgette and cook for 2 minutes then add the chopped tomatoes. Turn the heat up to high and cook for 5 minutes until the tomatoes just begin to soften. Remove from the pan and keep warm.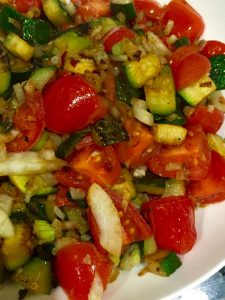 Place a large pan of salted water onto boil. As soon as it starts to boil, cook the gnocchi for 2 minutes. When they start to float to the surface drain off the water and place the gnocchi in the frying pan with a tablespoon of oil. Fry for 1 minute then add the sautéed vegetables and toss well. Stir in a tablespoon of the pesto and divide between four plates. Top with the roasted artichokes. Drizzle a little more pesto over the top of each plate and serve with some freshly grated Parmesan.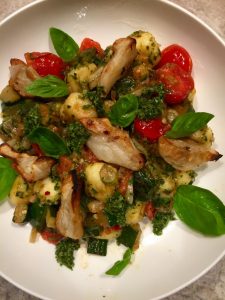 Pesto
1 bunch basil stalks removed
1 clove garlic crushed
30g hazelnuts
2-3tbsp olive oil
Blitz all the ingredients in a blender and season with a little sea salt and freshly ground black pepper to taste.