---
For several months now I have noticed that most Monday night suppers have been meat free. Whether it has been a subconscious effort to try and be healthy or just a result of a post weekend meat blow out, who knows? Whatever the reason, meat has been off the menu. With the exception of a little pancetta or chorizo occasionally slipped in to appease the husband!
 Gnocchetti sardi is quite a hearty pasta originally from Sardinia. Traditionally it was a peasant dish made from wild boar or Italian sausage which was then added to a rich robust  tomato sauce. A classic dish which seems to be having a bit of a renaissance at present.
In this recipe I have kept the rich tomato sauce which is best made with tinned tomatoes. If you can get tinned cherry tomatoes or San Marzano ( Sapon di Corbara are the best, expensive but deliciously sweet) they make the best sauce, otherwise buy Cirio It really does make a difference to the flavour of the sauce. I then added some chopped celery towards the end of the cooking. This might sound a bit bizarre, but it gives a great texture to the sauce.
Gnocchetti sardi with tomato chilli and Pecorino recipe
Difficulty: easy.                Serves:4
3 tins tomatotes
1 red chilli finely chopped
1 pinch dried chilli flakes
2 small onions finely chopped
4 sticks celery cut into a small dice
1 tbsp olive oil
2-3 tbsp grated Pecorino
1 handful of basil leaves coarsest chopped
320g Gnocchetti sardi pasta
grated Parmesan to serve
Gently cook the onions in the olive oil for 5 minutes until they begin to soften. Add the chopped chilli and chilli flakes and cook for another minute then stir in the tomatoes. Gently crush the tomatoes  with a wooden spoon and then cook over a medium to high heat for about 6-7 minutes until the sauce has reduced by half. Stir in the chopped celery and cook for another 3-4 minutes. (The celery still wants to have a little bite to it). Remove from the heat and keep warm and season with a little salt and pepper if needed.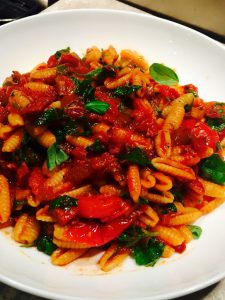 Whilst the sauce is cooking, cook the pasta in a large pan of salted boiling water. As soon as the pasta is cooked, drain and pour onto the hot sauce. Add the grated Parmesan and chopped basil and stir well. Devide into four bowls, and serve with a little extra grated Parmesan on the side.