This banana bread is really more like a cake than a bread. Deliciously soft and squidgy, it always leaves you wanting just another little extra slice. Whenever I make it the whole house is filled with a gorgeous mouth watering aroma of cake! It also makes the best eggy bread for breakfast in the morning.
A good thing about this recipe, is that it is a great way to use up any ripe bananas that you may have lurking in your kitchen. In fact, the riper they are the better. So when I popped over to visit my mother the other day, and noticed a bunch of rather sad looking 'black' bananas in her fruit bowl, I knew exactly what we would be having for tea!
Easy bake banana bread recipe for mother's day
Difficulty: easy                                      Serves: 8-10 slices
2-3 very ripe bananas
150g plain flour
100g castor sugar
2 eggs beaten
125g melted butter
2tsp baking powder
1/2tsp cinnamon
Pre heat the oven to 170C.
Using a fork mash the bananas with the sugar. (It doesn't matter if you still have a few lumps of banana). Pour in the melted butter and mix well. Sieve all the dry ingredients into the batter and stir together. Place in a 500g bread tin that has been lined with greaseproof paper.
Bake in the middle of the oven for 40-45 minutes  until the cake is cooked. (Insert a toothpick into the centre and if it comes out clean the cake is ready). Remove from the oven and leave to cool in the tin before turning out.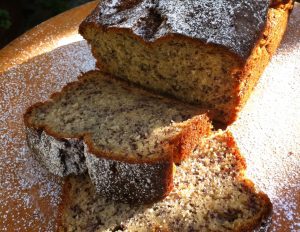 As it is mother's day this weekend, and my mother had quite a few 'black bananas', I doubled the recipe above, and added some pecans on top, to give it a bit of a wow factor.