Gnocchi is a great ingredient to use if you fancy a quick meal.  Whether freshly made or bought, it makes a very tasty alternative to pasta.
Traditionally gnocchi are little dumplings made from potatoes; but they can also be made from polenta, ricotta and spinach, pumpkin or whatever you have to hand, then rolled into a dumpling shape.
The idea of making gnocchi can be quite daunting to some people, however if you follow a few of these simple tips you should end up with some perfect little fluffy, melt in the your mouth gnocchi.
If you are using potatoes, I find that desiree potatoes are the best ones to use as they are not too starchy or waxy. Whether you use potatoes, squash or pumpkin always bake not boil them in their skins, this prevents them from becoming too watery and also makes them easier to shape. After they are baked, remove the flesh whilst still warm and put through a potato ricer, this way it keeps the gnocchi nice a light. Always add the least amount of flour/polenta/semolina that you can. Finally, add some flavour; a few finely chopped herbs, a little grated nutmeg or a pinch of chilli helps to boost these little dumplings into a great tasting dish.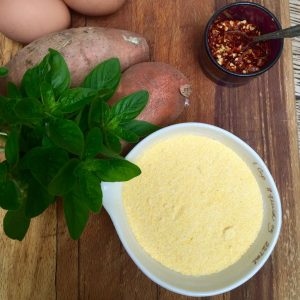 Sweet Potato and Oregano Gnocchi with Sage butter
Difficulty: easy/moderate                                 Serves:2/3
2  small sweet potatoes
2 desiree potatoes
1tbsp chopped oregano
sea salt and freshly ground black pepper
1/4 cup polenta flour
1/4 cup plain flour * or gluten free plain flour
1 egg beaten
1/2stp dried chilli flakes
30g butter
5-6 sage leaves finely sliced
grated Parmesan
Preheat the oven to 200C. Prick the potatoes and sweet potatoes with a fork once and bake in the oven for about 40 minutes until cooked. Remove from the oven and scrape the flesh out of their skins and place through a potato ricer onto a large board.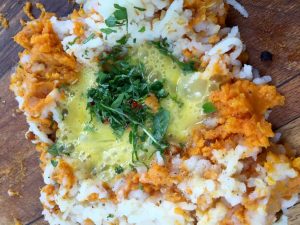 Make a crater in the centre, pour in the beaten egg, chilli, oregano and seasoning. Dust your hands with the flour and add 1tbsp of the flour and 1tbsp of polenta to the mixture and quickly knead the dough together. You may need to add a little more flour and polenta if the mixture is still too wet. (Be careful though, as the longer you knead, the heavier the gnocchi becomes).
Lightly dust another board with  the polenta and shape the dough into several long rolls (about 1.5cm thick). Cut the rolls into lengths half the size of your thumb (about 2cm).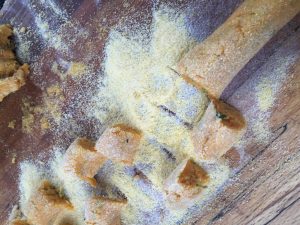 Bring a large pan of salted water to the boil and carefully lower the gnocchi into the water. (I tend to cook in batches of about 10-12).  Stir the water once with a spoon to stop the gnocchi from sticking together and cook for about a minute or two until they start to rise to the surface. Using a slotted spoon, remove them immediately, drain, and place on warmed plates.
Melt the butter in a pan and as soon as it starts to sizzle, add the chopped sage and swirl around in the pan for a few seconds then pour over the gnocchi and serve with freshly grated Parmesan.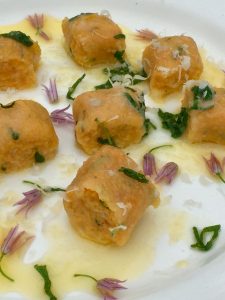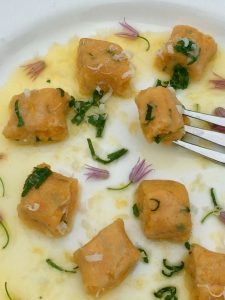 These gnocchi can be made the day before so they make a perfect meal when you want something fresh in a hurry.