I was having quite a gathering for lunch yesterday many of whom seemed to have a special diet; a vegetetarian, someone who ate no red meat, one with no spicy food, no pine nuts, the list went on and on..Unperturbed by this I still planned to make something tasty for everyone.
I always remember when a girlfriend of mine had a few friends round for supper, she cooked lamb steaks, forgetting that one of her mates was vegetarian, and hadn't touched meat in years. At the time my friend was rather a basic cook not even a meat and two veg  kind of cook, if she was cooking meat that was it, there was nothing else, finito, so she made her eat it!
Just because  someone cannot eat a certain food does not mean that you have to gear the whole meal around them, however you have invited them so it is only polite to provide something that they can eat! A little frittata, vegetable rosti or salad are all easy ideas. Often if I make 2 or 3 vegetable side dishes, with wheat and without, then I've got all tastes covered.
Fregola, which I've mentioned before, is a small type of pasta from Sardinia made from semolina, which is formed into little balls. It is also often used in dishes from the Middle East, where it can be referred to as giant cous cous and can be made from spelt. It is very versatile and I often use fregola in salads (Fregola salad with romanesco and sautéed peppers recipe).
Fregola hazelnut and peach salad with a zingy herby dressing 
Difficulty: easy                                     Serves:4-6
100g fregola
2 peaches
30g chopped roasted hazelnuts
1 large courgette
1tbsp olive oil
1 small bunch coriander chopped
1 small bunch chives
chopped
zest and juice of a lime
1tbsp hazelnut oil
1tbsp sesame oil
1 tbsp pomegranate molases (and a little extra for drizzling on top)
2-3 marinda or salad tomatoes chopped
sea salt and freshly ground black pepper
Cook the fregola in a large pan of salted water for about 15 minutes until it is just al dente. Drain, rinse under cold water then place in a bowl.
Cut the courgette into a small dice and sauté in a pan with the oil. Season with a little salt and pepper and cook for 3-4 minutes until the courgette begins to colour and soften. Remove from the heat and add to the cooked fregola. Peel the peaches, remove the stone and roughly chop then add to the fregola with the chopped tomatoes.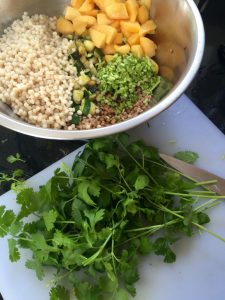 Make the dressing by mixing the lime zest, sesame and hazelnut oil and pomegranate molasses together.
Pour over the salad, add the herbs and half of the toasted hazelnuts and mix well. Season with salt and pepper to taste and sprinkle over the remaining toasted nuts and serve.