There is something really decadent about Alphonso mangos. Their intoxicating exotic perfume wafts through the room, even before you have cut into that glorious golden fruit, tasting wonderfully rich, sweet and intensely mangoey. Although their season is short; usually from May until the end of June, they are something I look forward to year after year.
The other day my father turned up with a bag of these beauties which he specially brought down for me from Newcastle. By the time I received them they had been on quite a journey; India to London, then up North to Newcastle, then back down to London again, so it wasn't surprising they were a little bruised and battered when I got them. However they were still perfectly ripe, so I thought the best way to serve them was by making this sorbet, which turned out to be one of the smoothest richest sorbets I've ever made. Containing only fruit and sugar, it had an incredible rich creamy texture just like ice-cream and a wonderful sweet honeyed mango flavour. It's also stupidly simple to make and don't worry if you haven't got an ice cream maker you can turn it into mango granita instead. Fat free Watermelon granita with mango and mint to chase away those January blues

Alphonso mango sorbet recipe
Difficulty : Easy                         Serves: 6-8
4 Alphonso ripe mangos
3-4 tbs castor sugar (approx.)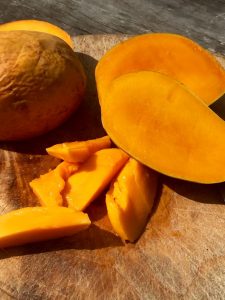 Take a sharp knife and slice the mangos vertically into two halves along the stone then scoop out the flesh. Peel the remainder of the skin from around the stone and remove the rest of the flesh.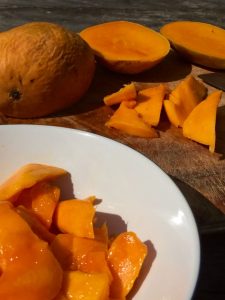 Place the mango into a blender and blitz until smooth. Add sugar to the ratio of about 1:3 sugar:mango puree. Taste for sweetness. Place the mango puree in an ice-cream maker and churn till frozen.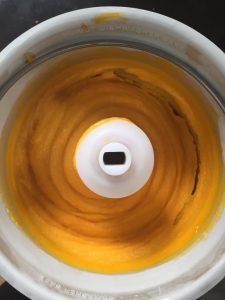 IMG_1742
Remove from the ice cream maker and serve with almond biscuits. ( Christmas Florentine Recipe ).Store in the freezer for two weeks; although I doubt you will be able to resist it for that long!