The Nasturtium flowers are beginning to take over a large corner of the veggie patch now. Their twisting fronds have spread up over the pergola and are now winding their way through the potatoes, making a really pretty addition to the veggie patch; and are also great for encouraging the bees.
These beautiful bright orange, yellow and garnet flowers are so easy to grow, you  quite literally, open a pack of seeds and chuck them anywhere in the garden. In a few weeks time (or days if you plant them now) you will have some some nasturtiums popping through.
The flowers are not only good for colour but they have a delicious delicate scent and a wonderful peppery flavour, so are great addition to summer salads.
I made this Nasturtium salad last night to go with some very tasty barbecued  lamb we were having; (Barbecued butterflied leg of lamb with pistachio pesto and sautéed peppers) and I have to say the colour and taste combo worked perfectly. It's also incredibly easy to make.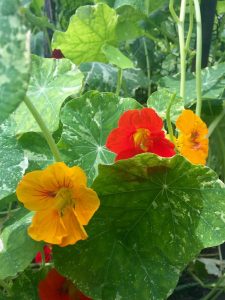 Nasturtium Walnut and Rocket salad with chèvre and caramelised onion
Difficulty: easy                                      Serves: 4-6
2-3 bunches/100g of wild rocket
4 red onions
80g medium soft chèvre (sells du chèvre works well)
1 large handful walnut halves
1 large handful of Nasturtium flowers
balsamic glaze
2tbsp olive oil
sea salt and freshly ground black pepper
Preheat the oven to 200oC.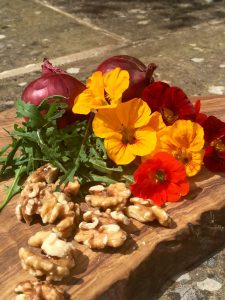 Peel the onions then slice into thirds to form rings. Place the whole rings on a baking tray and drizzle over half the olive oil and lightly massage the rings so that they are well coated. Season with a little salt and pepper and roast in the top of the oven for 20 minutes, until the onions have started to caramelise,and are brown in colour. Remove from the oven and allow to cool slightly. (They still want to be a little warm).
Whilst the onions are roasting, wash and spin the rocket and place in a serving bowl. Add the walnuts, roasted onions, chèvre, and half the flowers. Season with a little salt and pepper (not much as the cheese is salty and the rocket and flowers are peppery). Add the remaining olive oil and good drizzle of balsamic glaze and gently toss. Sprinkle over the remaining flowers and serve immediately.