Spaghetti Carbonara is one of the first pasta dishes I can remember ever eating. A rich creamy, cheesey sauce with lots of lovely bacon, what's not to like?
Traditionally spaghetti Carbonara is made from using just egg yolks, bacon, grated cheese and plenty of black pepper. Although recently many recipes include cream, I personally think that the egg yolks are rich enough; so I have it without.
When making a good Carbonara it's important to follow a few simple steps which will elevate your pasta dish from the mediocre to the sublime.
Use fresh eggs preferably ones with deep yellow yolks. If you don't have a friendly neighbour who keeps chickens then I find that the Burford Brown variety are excellent (from Waitrose and other good supermarkets).
Try and use  a good Pancetta  preferably one thick slice which you can then cut into fine strips. If you can't get good Pancetta then smoked streaky bacon will do, but you may need to a little more oil when frying.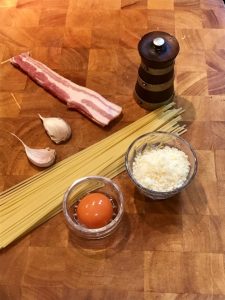 Classic Carbonara with no cream!
Difficulty: Easy                                Serves:2
3 egg yolks
80g pancetta or 4-6 slices smoked streaky bacon (depending how much bacon you like!)
1 clove garlic finely chopped
3tbsp grated Parmesan plus a little extra for serving
160g spaghetti
tbsp olive oil
freshly ground black pepper
Place a large pan of water on to boil and a generous pinch of salt. As soon as it comes to boil add the pasta and cook for ten minutes.
Whilst the spaghetti is cooking, finely slice the pancetta or bacon . Place the oil in a large frying pan and fry the pancetta/bacon over a high heat for 3-4 minutes until crisp. Remove the bacon from the pan  turn down the heat to low and add the chopped garlic and cook for 30 seconds then turn off the pan. Mix the egg yolks with the cheese and reserve.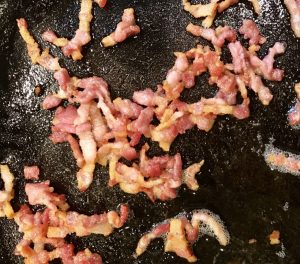 When the pasta is cooked (it should just be slightly al dente).  Take half a cup full of pasta water from the pan and reserve, then drain the pasta and immediately add to the frying pan and garlic.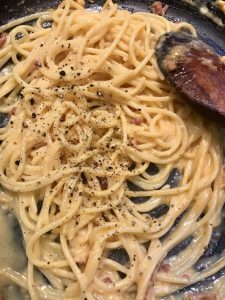 Toss well. Add the egg yolks and cheese with a generous amount of black pepper and half of the cooked Pancetta. Toss well, adding a little of the reserved pasta water to loosen the sauce. Place the pasta into two bowls and top with the remaining pancetta. Serve with a little grated Parmesan.