I don't know about you but, around 5-6 pm everyday, I seem to get a craving for something to munch upon. So recently I have been trying to come up with some things that are a little healthier than diving into a bag of crisps; and nibbling on carrot and celery sticks are all very well (and okay very virtuous) but they are a little dull.
So I have come up with these crispy cauliflower and sesame snacks. Which are very tasty and extremely easy to make.
Cauliflower is a very versatile vegetable; said to have anti cancer properties, it's high in fibre and low in fat, and it's also a great source of vitamin C. The snacks also contain tahini which is rich in omega 3 and 6 and pomegranate molasses which helps reduce against cholesterol and cancer. So as snacks go, these beauties pack quite a healthy punch.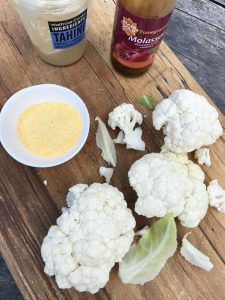 Healthy Cauliflower and Sesame Snacks
Difficulty: Easy                                 Serves: 4-6
1/2 cauliflower
2tbsp tahini
2tbsp pomegranate molasses
1tbsp sesame seeds
1/2 cup polenta (I use the pre cooked maize flour)
sea salt and freshly ground black pepper
Pre heat the oven to 180C
Cut the cauliflower into bite sized florets.
Mix the tahini with the molasses and 2 tablespoons of cold water to form a loose paste (about the consistency of golden syrup). season with  a little salt and pepper.
Add the cauliflower florets and mix well so that all the florets are well coated in the sauce. Sprinkle over the polenta and sesame seeds and gently stir.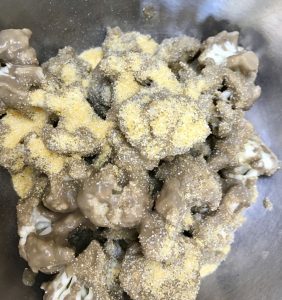 Line a large tray with baking parchment and spread the cauliflower florets over the  parchment taking care that they do not over lap.
bake in the oven for 15-20 minutes until golden brown.
Remove from the oven and cool slightly. Serve slightly warm or at room temperature.