I don't know about you but often when I have a curry it's those little side dishes which seem to really bring everything together.
The other day for example I had decided to have a bit of a curry feast; I had even persuaded my daughter Natasha to get on board. Not only is she fast becoming the maestro of the chapatti but her veggie sweet potato curry is legendary; it blows your socks off-taste wise!!
We kicked off the night with tandoori vegetables and cucumber raita, then followed it with a rich lamb masala, spicy aubergine curry and Natasha's epic sweet potato curry, with home made chapatti's and fluffy pilau rice. But the best things of all was the fresh mango chutney. The fruity combo, of sweet mango, sour lime, a bit of chilli heat and fresh coriander  seemed to marry all the different dishes perfectly together.
Even if you are just making one curry dish with rice, fresh chutney or a fruity relish is really worth making. You can easily whip it up quickly whilst the rice is cooking. It's also a great side dish to serve with barbecued prawns or chicken.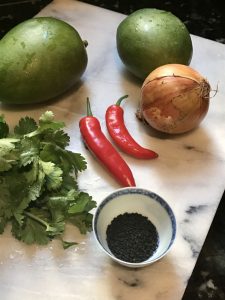 Fresh Mango Chutney 
Difficulty: Easy                   Serves: makes 1 small pot
1 mango (not too ripe)
1/4 small onion finely chopped
1/2 red chilli finely chopped
1tsp nigella seeds
1tbsp chopped coriander
1tbsp white wine vinegar
1tsp soft brown sugar
juice of half a lime.
1tsp fish sauce
Peel the mango and cut the flesh into a small dice (about 3cm) and place in a bowl.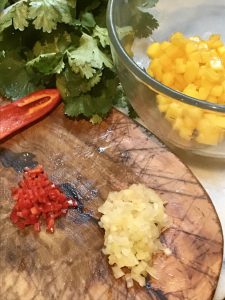 Add the remaining ingredients and stir well.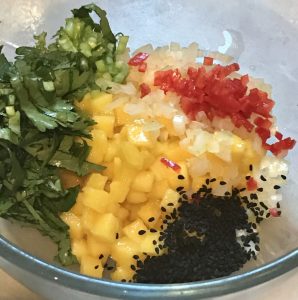 Check the seasoning (sweet/ sour/salt). Leave for 10 minutes for the flavour to develop before serving.