Beautiful though autumn is; and this year it has been exceptionally colourful. The nights are drawing in and the temperatures are starting to fall. It's getting to be that time of year, when all you really want to eat is a nice bowl of warming soup.
Today has been particularly dark, damp and dingy outside. Even Ella, my crazy cocker spaniel hasn't wanted to venture out; instead she spent the day curled up sulking in her basket. So in need of something to eat and brighten my day I made this glorious golden cauliflower soup. Bringing a little sunshine into my kitchen.
Often when I make soup I love to serve a little something sprinkled on top. There are so many different things you can add. A few crunchy Parmesan croutons scattered on to a bowl of mushroom soup, can take the soup to another level of taste and deliciousness. Fresh crab with chives on top of gazpacho is also devine. What ever you choose, pimp up that soup!
For this recipe I have made some spicy cauliflower crumbs which are a delicious addition. They are also pretty good sprinkled over salads too.
Golden cauliflower soup with spicy cauliflower crumb
Difficulty: Easy Serves: 2-3
1/2 cauliflower
3 small shallots finely chopped
1tsp turmeric
1tbsp chopped coriander leaves and stalks
2 cups of vegetable or chicken stock
sea salt and freshly ground black pepper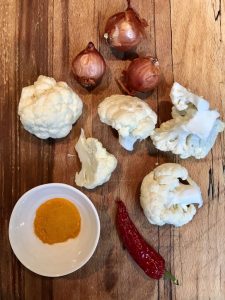 Fry the shallots in the oil for 3-4 minutes until they begin to soften (but not colour). Add the turmeric and cauliflower florets and cook for another minute then pour over the stock. Bring to the boil then turn down to a simmer and cook for 10 minutes. The cauliflower should be just soft. Remove from the heat and add the coriander. Blitz in a blender until smooth. Season with salt and pepper to taste.
Pour the soup into bowls and serve with a generous sprinkling of the spicy cauliflower crumb on top.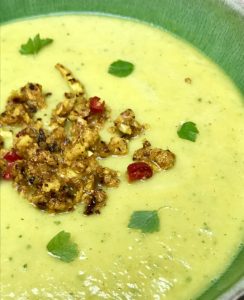 Spicy cauliflower crumb
1 cauliflower floret
1/2tsp turmeric
1/2tsp coriander seeds crushed
1/4 red finger chilli finely chopped
1tbsp sunflower or light olive oil
Heat the oil in a frying pan for 20 seconds then stir in the cauliflower, coriander and turmeric and fry for 3-4 minutes until the cauliflower starts to colour and the moisture has evaporated. Add the chilli and cook for another minute then remove from the heat and leave to cool.