Apple strudel is one of those desserts which are only just a little bit naughty. Delicious wafer thin layers of crisp filo pastry, wrapped around succulent soft apple, with just a hint of cinnamon. Totally yummy at any time of day and let's face it, it's mainly apple, so it's is one of your 5 a day, so it's really quite good for you… isn't it?
Whenever I make Apple Strudel now, my husband delights in doing a rather rubbish impersonation of  Christopher Waltz (the baddie in Inglorious bastards) in the scene where he offers Laurent 'a little bit of whipped cream to go with her strudel!' So obviously now there has to be a little whipped cream to go with his strudel too!
As Christmas is not that far away… I know I can't quite get my head round that fact either. I thought I might as well at least try and start, so I've added a little sweet mincemeat and orange zest to give this strudel a little more of a Christmasy feel. Actually it tasted so good I might just include it, whatever the time of year.
Christmas Apple Strudel
Difficulty: Easy                                                   Serves: 6
1 packet of filo pastry
4-5 dessert apples (Gala or Cox are good)
2 tbsp mincemeat
1-2 tbsp castor sugar (depending how sweet the apples are)
1/2tsp powdered cinnamon
zest of an orange
50g melted butter
a little icing sugar for dusting
Preheat the oven to 180C (170C for fan ovens).
First make the filling by peel and coring the apples then chop them up into dice sized cubes and place in a bowl with the sugar cinnamon and orange zest and mix well.
Take a sheet of the filo pastry and lightly brush with melted butter. Lay another sheet next to it and let it over lap by 2cm so that it forms a large rectangle. Brush the second sheet with some butter and repeat the process so that there are 3 layers of filo (6 sheets total). Place the apple filling in a line in the centre of the rectangle  (about 10cmx30cm) leaving 6 cm filo edge all around.  Add the mincemeat in a small line on top of the apple.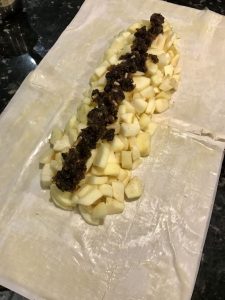 Fold one side of the pastry over the top of the apple and brush with butter. Then fold the other side on top so that the pastry overlaps and seals the parcel. Lightly press the pastry down so that all the edges are sealed. trim off any excess pastry.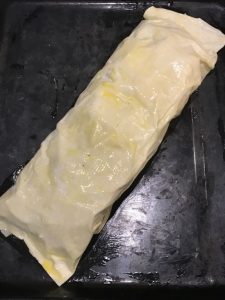 Now turn the strudel over and carefully and lift it onto a large baking sheet. Bake in the centre of the oven for about 20-25 minutes until golden brown.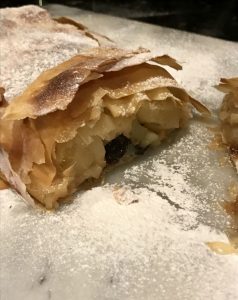 When cooked remove from the oven and eat for 5-10 minutes before placing on a serving dish and dusting all over with icing sugar. Serve with lashings of whipped cream or vanilla ice cream.