At this time of year, after the usual Christmas and New year blow out, my body's craving a time out…A bit of a 'meatless moment' would be good, to abate that perpetual feeling of stuffed whale!
Now's the perfect time to make some tasty veggie dishes. Like my Green risotto with sweet basil and spinach or Keralan sweet potato and coconut curry which are both satisfying and comforting, without giving you that awful bloated feeling afterwards.
One of my favourite veggie recipes, which I first posted several years ago was my Sheperdless Pie recipe which is completely meat free. The "shepherd ' part being made from puy lentils with porcini mushrooms which gives a wonderful rich earthy flavour (often fooling even the most discerning meat eater)! This recipe is very versatile, easy to make. Often I make double quantities and use the other half of the lentil base to make a delicious meat free bolognese.
Meatfree Shepherd's Pie, delicious comfort food everyone can eat.
Difficulty: Easy Serves: 2
For the topping
3 large floury (ideally King Edward) potatoes, quartered
30g knob of unsalted butter
sea salt and freshly ground black pepper
1 tbsp grated cheddar or Parmesan cheese
For the filling
1 tbsp olive oil, plus a splash more for the mushrooms
1 onion, finely chopped
4 celery sticks, finely sliced
1 large carrot, finely chopped
20g dried porcini, soaked in a cup of boiling water for 10 minutes
1 garlic clove, finely chopped
400g can of chopped tomatoes
1 tomato, chopped
2tbsp frozen peas
60g Puy lentils
100g chestnut mushrooms
Splash of soy sauce or lea and perrins to taste
Boil the potatoes in water for 15-20 minutes until cooked. Drain and leave to stand in a colander for two or three minutes to dry before pressing through a potato ricer (if you don't have one mash with a wire whisk to remove all the lumps). Add the butter, season with salt and pepper and reserve.
Heat the oil in a saucepan over a medium heat and add the onion, celery and carrot. Sweat for 10 minutes until they are soft and translucent. Strain the dried porcini, retaining the soaking liquid.
Add the garlic to the saucepan and fry gently for two or three minutes, then add both types of tomatoes, the porcini and lentils. Pour in the porcini soaking liquid, leaving behind any grit at the bottom of the bowl (discard that). Simmer for 20-30 minutes; until the lentils are almost tender, adding a little more water if necessary. Preheat the oven to 190°C/375°F/gas mark 5.
Sauté the chestnut mushrooms in a splash of olive oil, then add with the frozen peas to the lentil mixture. Cook for five minutes, then season with salt and pepper and a splash of soy sauce.
Place in a 20 x 12cm dish and top with the mashed potatoes. Scatter on the cheese. Bake in the hot oven for 15–20 minutes, or until golden brown.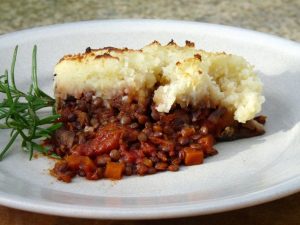 TOP TIP
You can assemble this pie the day before, cover and leave it in the fridge. But you will need to increase the cooking time to 40–45 minutes. Any leftover lentil mixture makes an excellent bolognese.