Chocolates have always been a great gift to give at any time of the year, and yes I know there are an abundance of wonderful chocolates that you can buy quite easily everywhere. However they aren't quite so special, as giving someone something that you've made yourself. Okay don't panic! I'm not quite talking about making chocolates from scratch, just melting down some good quality chocolate bars, then 'tweaking it' a little and turning them into something really quite fabulous.
I came across these chocolate transfer sheets a few weeks ago whilst browsing in Squires, a wonderful kitchen shop in Farnham, well worth checking out their website if you're not nearby. (https://www.squires-shop.com/ ). They are incredibly easy to use and make very pretty and impressive chocolates.
You can make these chocolates using good quality dark, milk and white chocolate. For the sprinkles you can use whatever you fancy.  I've used sea salt and freeze-dried raspberries in this recipe; popping candy, homemade praline, chopped toasted nuts, freeze dried mango, all make excellent alternatives.
You will also need to temper the chocolate, but don't worry you don't need a thermometer, there is a much simpler way.
How to temper chocolate.
Melt two thirds of the chocolate in a bowl over simmering water. When it has all melted add the remaining chocolate (which should be broken into small pieces) and stir until melted. This cools the chocolate down. To test if the chocolate is the correct temperature, dab a little on the inside of your wrist, it should be warm but not burning. The chocolate is now ready to be used.
Homemade chocolate thins with sea salt and raspberry 
Difficulty: easy                                         Serves: approx 20-25 chocolates
100g dark chocolate (min 65%)
Freeze dried raspberries*
Sea salt
2 chocolate transfer sheets
Place two thirds of the chocolate in a bowl over simmering water and leave to melt. Once melted, turn off the heat and add the remaining chocolate and stir continuously until it has melted. the chocolate should be nice and shiny.
Place the transfer sheets chocolate side up on a small tray or chopping board. Take half a teaspoon of chocolate and place it on the sheet then using the back of the spoon swirl the chocolate around to form a disc approx 6-7cm in diameter.
.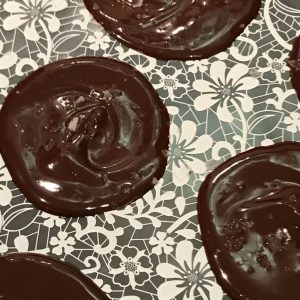 Repeat the process with the remaining chocolate, filling up both transfer sheets.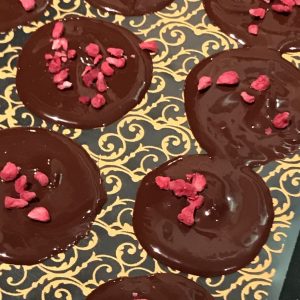 Place the chocolates in the fridge to set for 10-15 minutes. Once completely  cold, carefully peel the chocolates off the sheets and place into gift bags or a bowl. Store in the fridge till needed.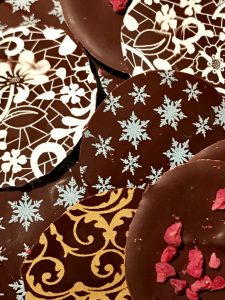 *Freeze dried raspberries can be found in the cake decorating section of most good supermarkets.