As it is Valentines day tomorrow, I was asked by a girlfriend to make something rich and chocolatey. They wanted something similar but healthier than the classic Red Velvet. So I came up with these chocolate almond and beetroot cupcakes, and they certainly hit the spot. They are gluten and dairy free and have about half the amount of sugar to Red Velvet, so they are a lot healthier too.
Also because they contain beetroot, they are naturally sweet and deliciously moist…but don't let the beetroot put you, off you can't really taste it; as my son who hates beetroot proved, he gobbled up 3 cupcakes without even noticing!!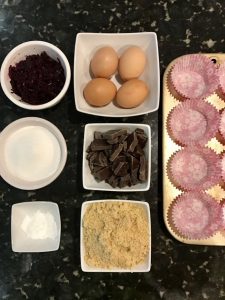 Deliciously Decadent Chocolate Almond and Beetroot cupcakes
Difficulty: Easy Servers: 12 cupcakes
200g dark (70%) chocolate
125g ground almonds
4 eggs
140g castor sugar
3 medium cooked beetroot peeled and grated
2tbsp hazelnut oil
1tsp baking powder
Preheat the oven to 180C. Place 12 cupcakes cases in a muffin tray.
Break up the chocolate into small pieces and place in a bowl over simmering water and leave to melt.
Beat the egg yolks with the sugar until pale and fluffy.(An electric mixer is best for this unless you want to give your arms a work out!)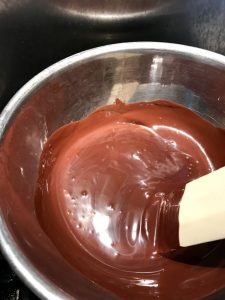 Add the almonds, beetroot, oil and baking powder to the melted chocolate then carefully fold in the beaten egg yolks and sugar. Whisk the egg whites till stiff and using a large metal spoon, gently fold the chocolate mixture into the egg whites.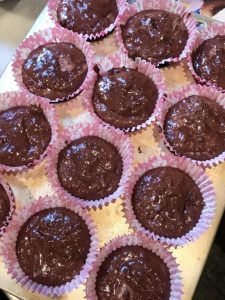 Place a tablespoonful of the mixture into each cupcake cases, then bake in the centre of the oven for 20-25minutes. ( To test if cooked, a cocktail stick should come out clean when inserted ). Remove from the oven and leave to cool.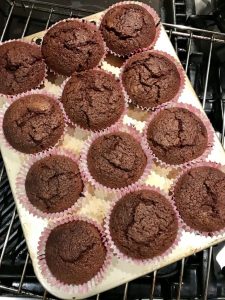 Chocolate frosting
100g dark chocolate
25g butter or margarine for non dairy eaters
50g icing sugar
1-2tbsp hot water
freeze dried raspberries or strawberries
Melt the butter and chocolate in a bowl over simmering water and stir in the icing sugar and water. Mix well and pour over each cupcake and spread evenly with a knife. Sprinkle over a few freeze dried raspberries over each cup cake and leave to cool.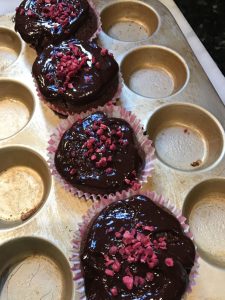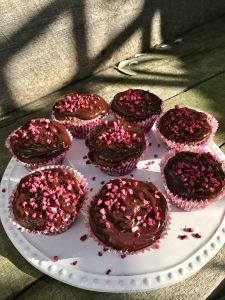 These will keep well for a couple of days in an airtight container.