There has to be pancakes in our house on Shrove Tuesday and the traditional skinny ones with lemon and sugar although are very tasty I thought I'd try something a little different today.
We often have fluffy blueberry pancakes as a breakfast treat at the weekend. So I decided to make a version of these but with a little twist. In this recipe I have left out the flour making them gluten free, and added a little corn flour and baking powder so that they are still light and fluffy. They only take minutes to make so you can whip them up easily at any time of the day.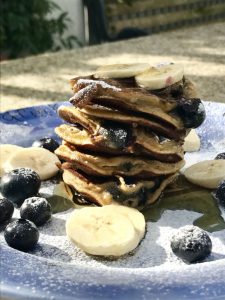 Gluten free banana and blueberry pancakes
Difficulty; Easy                                            Serves:4
2 eggs
2 ripe bananas
1/2tsp baking powder
2 tsp cornflour (optional)
2tbsp blueberries and a little extra for serving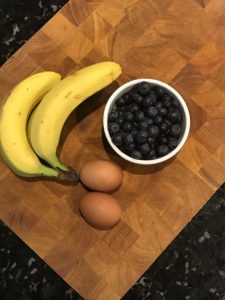 Whisk the eggs, baking powder and cornflour till smooth. Mash the banana and add to the eggs with the blueberries.
Take a large non stick frying pan and place over a medium heat. Place 3 -4 tablespoonfuls of the mixture in the pan about 2cm apart from each other. Cook over a medium heat for 2-3 minutes until bubbles begin to form in the pancake.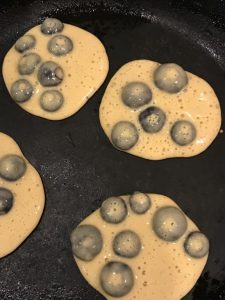 Carefully flip over each pancake with a spatula and cook for another 2 minutes or until golden brown. Remove from the heat and keep warm. Repeat the process with the remaining pancake mixture.
To serve, place 3-4 pancakes on a plate and sprinkle over a few blueberries. and serve with maple syrup and ice cream.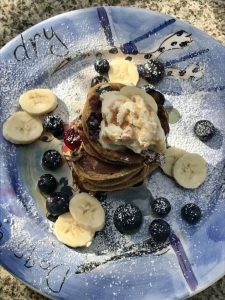 Add a little maple syrup and ice cream for extra yumminess.