I first had croustade whilst visiting my mother in law down in the South west of France. I can still remember my first mouthful of those luscious layers of light, crispy pastry almost crownlike covering a deliciously decadent, apple and Armagnac filling.
Croustade originates from the region of Gers in France. Although it traditionally is made from apples, prunes are sometimes used instead. Some recipes like to marinate the fruit in the Armagnac overnight; other recipes cook the fruit in a little butter and sugar then flambé in Armagnac before adding the cooled fruit to the tart. For me I like to keep it simple, and just add the raw apples doused in Armagnac before cooking. Whichever way you do, don't stint on the Amagnac it is one of the principal ingredients! But don't worry you burn off the alcohol so children can eat this too.
Deliciously light and crispy apple and Armagnac croustade
Difficulty: Easy/medium Serves: 6
1pkt filo pastry
110g butter
150g castor sugar
4 medium dessert apples (coxes or gala) peeled quartered and sliced very thinly
2-3 tbsp Armagnac
Lightly grease a 22cm (9″) loose bottomed flan tin and preheat the oven to 230C.
Take a sheet of the filo pastry and lightly brush it with butter and sprinkle over a little of the sugar. Cut a 22cm circle out and lightly place in the bottom of the flan tin. Keep the trimmings. Repeat the process 2 more times so there are 3 buttered circles in the base of the tin. Do not press the circles down firmly. Arrange the apple slices over the pastry circles drizzle over the Armagnac.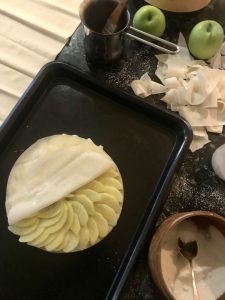 Sprinkle over the remaining sugar and drizzle over any remaining melted butter. Take the pastry trimmings and scatter over the top of the tart (like the pointy fronds of a crown sticking up).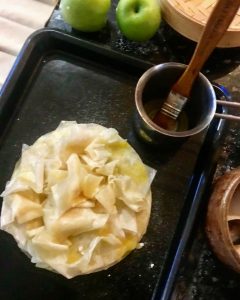 Bake the croustade in the oven for 20-25minutes until golden brown.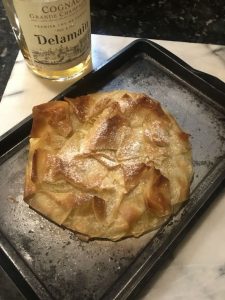 Serve warm with cream or ice cream… and for adults only I like to drizzle a little extra Armagnac over the top!