Being more of a savoury person I don't like eating a lot of the sweet stuff. However,  rather bizarrely I love making them, particularly when it comes to cakes. When the kids were small I used to spend hours creating wild and crazy birthday cakes. How many they remember now, I'm not sure, but the looks on their faces at the time was priceless.
Now my cake making has taken a shift in a different direction. People are more concerned about what goes in them. Of course they still have to taste great, but less sugar, gluten free or dairy free is much more a key feature in the recipe. This banana bread manages to tick all the boxes. I have substituted honey for sugar,  ground almonds for flour (gluten) and groundnut oil for butter, making this cake deliciously moist and light, and very tasty indeed.
Gluten free, Dairy free banana bread with honey and poppyseed 
Difficulty : Easy                     Serves: 8
200g ground almonds
3tbs runny honey or honey comb
60ml groundnut oil
3 ripe bananas
2 tbsp hazelnut oil
1 egg yolk
2 egg whites
1tbsp gluten free baking powder*
1/2tsp bicarbonate soda
2tbsp poppy seeds
zest of an orange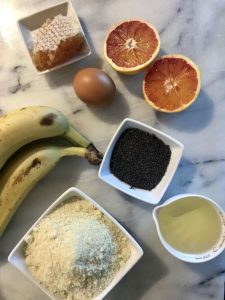 Preheat the oven to 160C. Line a large loaf tin with baking parchment.
Mash the bananas and using a hand blender blitz together with the honey.
Add the oil, egg yolk, poppy seeds, orange zest and blitz again. Sift in the ground almonds, baking powder and bicarbonate of soda and mix well.
Beat the egg whites until stiff and carefully fold into the cake mixture. Pour into the prepared baking tin and cook in the centre of the oven for 30-40 minutes until the cake is cooked (you can test by inserting  a toothpick in and if it comes out clean it is cooked).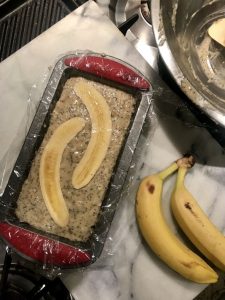 Remove from the oven and leave for 5 minutes before turning out onto a wire rack to cool… if you can wait that long!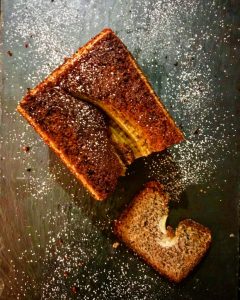 *If you don't have any gluten free baking powder you can make your own by mixing a teaspoon of Cream of Tartar and 1/2 teaspoon of Bi-carb soda. Add 1 cup of Gluten free plain flour and sift together. This can then be used as desired in Gluten Free Recipes which require self-rising flour.