I have been giving my father a crash course on cooking recently and have come up with some fail safe, idiot proof, quick and easy recipes. He seems to be catching on quite quickly and has mastered the fish pie so well that he has even has started hosting the odd DP! That said he isn't quite so good on the quantities and sometime is in a quandary as to what to do with the leftovers …apart from feeding them to his very greedy cockerpoo so now our lessons have moved onto soup.
A chowder is basically a soup which is made with milk or cream . You can make this chowder from scratch (see the recipe below) or if you have any leftover fish pie (Quick fish pie with spinach and tomatoes recipe) all you need to do is bring 300ml milk to the boil, and add 250g fresh or frozen sweetcorn and 250g undyed smoked haddock. Lower to a medium / gentle heat and cook for 3 minutes till the fish is cooked (if there is skin on the haddock remove it now, it should peel off easily). Add all the remaining fish pie and blitz in a blender till smoothish (I like my chowder to be a little bit chunky). Season with a little salt and plenty of black pepper. Reheat and add a little chopped parsley or chives before serving.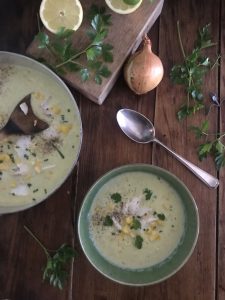 Quick and easy smoked haddock and sweetcorn chowder
Difficulty: Easy                                     Serves : 2
1 onion peeled and chopped
400g undyed smoked haddock
300g fresh or frozen sweetcorn
500ml milk
1tbsp chopped chives
1tbsp/15g butter
sea salt and freshly ground black pepper
Heat the butter in a pan and add the onion with a pinch of salt. Cook over a gently heat for 5 minutes stirring occasionally then cover and turn the heat down low and cook for another 10 minutes until the onions are soft but not coloured. Add the milk and sweet corn  then place the smoked haddock on top and turn up the heat. As soon as it starts to boil, turn down the heat to very low and cook for 2 minutes, then turn off the heat and leave to stand for 5 minutes. By this time the fish should be cooked. Remove the skin from the fish and place the chowder in a blender and blitz till smooth (or a little chunky if you prefer). Return  to the pan, season with a little salt and plenty of freshly ground black pepper and sprinkle with the chopped chives before serving with plenty of crusty bread for dipping.