It's been steamy hot this summer and I've mostly wanted to eat refreshing juicy or leafy salads. Delicious and super healthy they maybe but after a while I feel I need to get stuck into something a little more satisfying.
I was round at my daughter's for dinner the other night and she made this fabulous spicy cauliflower salad with pomegranate and hazelnuts. After begging her for the recipe (which she still hasn't divulged) it got me thinking… so I made up this delicious warm chickpea and cauliflower salad below.
Although this is a warm salad, it tastes almost better when eaten cold the next day. The flavours have had time to develop, so its a great dish to take on a picnic or you could make it into a wrap and add a dollop of yogurt to  eat on the go.
There are a few different stages to this salad so it takes a little time. but it is easy to make and can be made the day before. I like to serve it at room temperature or slightly warm.
Warm cauliflower tomato and chickpea salad with harissa dressing
Difficulty: Easy                            Serves: 6
1 medium cauliflower
1tbsp coriander seeds crushed
2 tsp cumin seeds
1tbsp turmeric
1-2tbsp sunflower oil
400g chickpeas (conservaselnavar chick peas in a jar are the best)
3 red onions
6 plum tomatoes
1 tbsp sweet harissa paste
1tbsp balsamic vinegar
1/2 tsp castor sugar
2tbsp olive oil
zest of a lemon
sea salt and freshly ground black pepper
Preheat the oven to 190C.
Cut the tomatoes in half lengthways and place in a bowl with the harissa olive oil balsamic and sugar. Mix well and place on a baking tray lined with greaseproof paper. Cook for 15-20 minutes til slightly caramelised on top. Remove from the oven.
Peel the onions and cut into thirds and place on a baking tray. Season with a little salt and drizzle over a little olive oil. roast at the top of the oven for 20 minutes.
Whilst the tomatoes and onions are cooking, cut the cauliflower into small florets. Place in a bowl with the turmeric, coriander and cumin seeds season with salt and pepper and pour over the oil and mix well.
Take a large wok or frying pan and cook the cauliflower for 4-5 minutes turning occasionally  allowing the cauliflower to blacken slightly. Remove from the heat and cover. You want the cauliflower to steam slightly BUT it still wants to be al dente so remove the cover when done.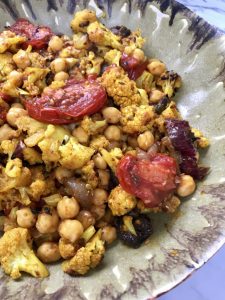 To assemble the salad. Rinse and drain the chickpeas and place in a bowl. Add the cauliflower lemon zest and onions and mix well. Carefully add  the tomatoes with their roasting juices and mix together season and arrange on plate and serve.