Earlier this year I planted 3 peaches in the garden which might be a tad optimistic living here in the UK. However as luck would have it, we had a heat wave this summer and my peaches blossomed. From one little tree I harvested 4 trays of peaches which was awesome!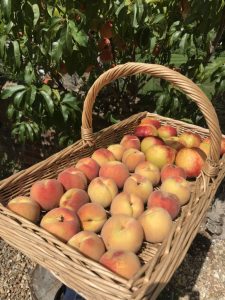 Having a glut of peaches is wonderful, but the season is short and they do not last long, so unless you bottle them or make jam you need to get creative with your recipes.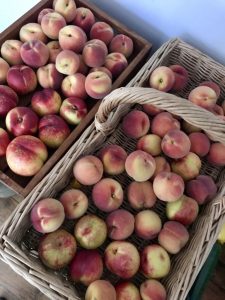 Although peaches are naturally sweet and delicious in desserts. I actually love them in savoury dishes too. In this recipe I have roasted them in a little olive oil with salt and pepper and the flavours work fabulously well with the tomatoes and cheese. If you cannot find the bocconcini (baby mozzarella the normal buffalo mozzarella or burrata  will do)
Roast peaches with bocconcini and tomatoes
Difficulty: Easy                       Serves: 4
1 tub of bocconcini mozzarella
4 peaches
120g cherry tomatoes (red or yellow)
1 handful of basil leaves
olive oil
balsamic glaze
sea salt and freshly ground black pepper
Pre heat the oven to 200C.
Cut the peaches in half,  remove the stones then cut each half into 3 (or 4 if very large). Place the peaches slices on a roasting tray and drizzle over a little light olive oil and season with sea salt and black pepper.
Roast in the oven for 15-20 minutes until golden brown. Remove and leave to cool slightly.
Cut the tomatoes in half and arrange on a plate with the peaches. Drain the liquid from the bocconcini and cover with warm water for 2 minutes then drain again and cut in half and add to the plate. Tear over the basil and season with salt and pepper. drizzle over a little olive oil and balsamic glaze and serve.