Valentine's day is just around the corner  and the shelves in the supermarket are already crammed full of with heart shaped boxes filled with various assortments of chocolate truffles. Frankly I find it a real turn off! Much better to go out and buy a punnet of strawberries and dip them in some of your (or your loved ones) favourite chocolate. If Cadbury's dairy milk  is your bag that's fine or if you want to be a little more exotic why not try some dark chocolate with cardamom or sea salt or maybe a hint of Chilli,  might spice things up later…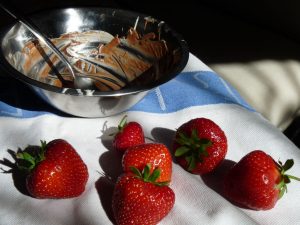 Take a punnet of strawberries and wash and place on a tea towel to dry.
Break up a 100g bar of chocolate (white, milk or dark depending on what you fancy) into a  small bowl and place over a bowl of simmering water to melt. Do not stir otherwise the chocolate will go grainy. When the chocolate has melted remove the bowl from the heat and dip the strawberries in the chocolate then place on some greaseproof paper on a tray and pop them in the fridge to set.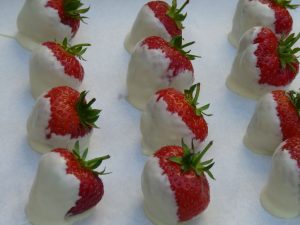 White chocolate strawberries above -Max's favourite and Tasha's milk  with cardamom and dark  chocolate and chilli strawberries below.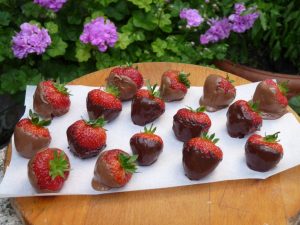 After they have set carefully peel the strawberries off the paper and place on a plate. They won't last long!