Summer seems to have abruptly come to an end this past week and I have had to pull out my boots and winter woolies a bit earlier than anticipated. On the plus side however it gives me and excuse to start making some really deliciously sticky autumnal desserts to stave off those chilly nights.
Tarte tatin has got to be one of those top sticky desserts; traditionally made with apples which have been caramelised in butter and sugar making them gorgeously soft and sticky it is then topped with pastry, baked in the oven and then flipped over to make this delicious upside down pastry. The story goes that it was made by accident in the 1880's when Stephanie Tatin who ran a hotel with her sister Caroline, burnt the apples she was making for the pie. Being an inventive soul she covered her mistake with some pastry, popped in the oven then turned her creation upside down. The end result turned out to be such a sensation with her guests, we have been making it for generations ever since.
There have been many variations of tarte Tatin where other fruit such as pears, pineapple peaches or bananas have been substituted and also vegetables, tomatoes, onions or beetroot can work really well too. Traditionally it is made with shortcrust or puff pastry, however in my recipe below I have used filo pastry which gives the tarte a much lighter crispier finish.
Apricot and star anise tarte Tatin made with filo pastry
Difficulty: medium                         Serving: 6-8
10 apricots halved
55g butter
140g castor sugar
4 star anise
3 sheets filo pastry
25 g melted butter
Preheat the oven to 190C.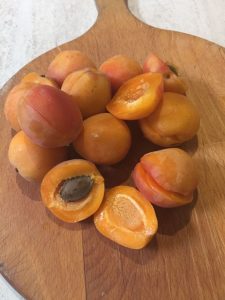 Melt the butter with the sugar in a 24cm heavy based frying pan over a low to medium heat. Do not stir. When the butter has melted turn the heat up high and add the star anise and cook for 2-3 minutes then carefully add the apricot halves cut side up. Cook for another 3-4 minutes by which time the sugar should have melted and become a rich dark caramel colour. Remove from the heat.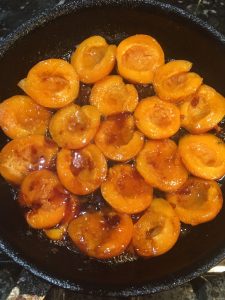 Place a sheet of the filo on the work surface and brush with the melted butter. Top with another sheet, brush with butter and repeat with the last sheet. Cut the sheets into a large circle 26cm  diameter  (2cm bigger than the frying pan). Place on top of the apricots carefully sealing the apricots under the pastry. Bake in the oven for 15 minutes until the pastry is golden brown. Remove from the oven and leave to cool for 1-2 minutes (so that the caramel cools and thickens slightly before you turn the tarte over). Place a large plate on top of the pan and holding the plate firmly flip the pan over and remove. Serve immediately with some creme fråiche or vanilla ice cream.