There has been a bumper crop of apples this year in the UK and I have to admit that I was running out of ideas in which to use up my 'apple mountain' from the garden. Today however I was inspired!
I was stuck inside, partly due to the builders and partly because of the foul weather. I had promised to make my father in law a rice pudding to which he is rather partial too. This time I decided to jazz it up a little and made a sauce from diced apples, burnt sugar and a little butter and cream. WOW! What a combination. The apples in the salted caramel sauce work fantastically well with the creamy rice pudding. A bit of a twist on the classic nursery rice pudding (which often gets a bit of a bad press). This recipe definitely is a winner, and a great one to make in advance if you are entertaining.
Rice pudding with spiced apple and salted caramel sauce
Difficulty: medium                                              Serves: 4
100g pudding rice
700ml milk
100ml water
50g castor sugar
1tsp pure vanilla essence
a little grated nutmeg
Salted caramel sauce
40g butter
80g soft brown sugar
30 ml double cream
1/2 tsp sea salt
Sautéed apples
2 medium dessert apples
1tsp cinnamon and a little grated nutmeg
20g butter
1 -2 tbsp  castor sugar (depending on sweetness of apples)
First make the rice pudding by placing all the ingredients except the cream in a pan and bring to the boil. Turn down the heat and simmer for 20-25 minutes, stirring occasionally to prevent the rice from sticking. The rice should be almost cooked and almost all the liquid should have been absorbed. Stir in the cream and continue to cook for 5 minutes then remove from the heat and leave to cool.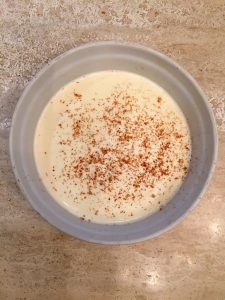 Peel, core then cut the apples into small dice cubes (about 1cm). Melt the butter in a pan and add the apples and sugar. Stir well and quickly sauté the apples for 2-3 minutes until they just begin to soften. Remove from the heat.
Make the caramel by placing the butter and sugar in a pan, stir well and turn the heat up high. Cook for 3 minutes then add the cream, spices and salt, and cook for another 2-3 minutes.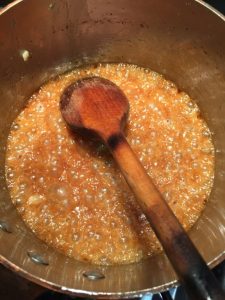 Add the apples and cook for another minute then remove from the heat and leave to cool.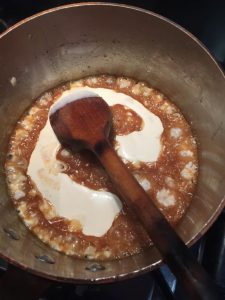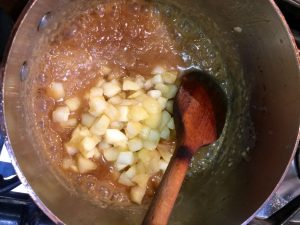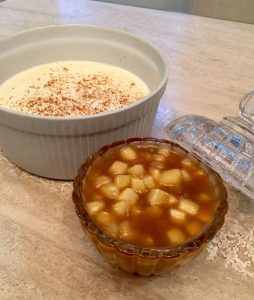 To serve. Divide the rice pudding into glasses and top with a spoonful of the apples in salted caramel sauce.