Having stuffed myself with turkey, roast ham, duck and no end of other delicious christmas goodies the carnivore in me has finally reached saturation point. I crave a meat free meal. So when a girlfriend of mine came over for Sunday brunch I cooked a soufflé instead. I had plenty of leftover cheese in the fridge and I usually add some spinach or kale to a cheese soufflé but instead I used peas. Which I know sounds a bit odd but it was the only green vegetable I had left. However it turned out to be a real hit; the marriage of peas with the parmesan gave the soufflé a wonderfully delicate flavour. I shall be definitely making this one again.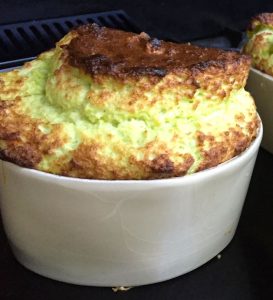 Most people are intimidated by the thought of making a soufflé but really it is quite simple. For savoury soufflé is basically a cheese sauce with some beaten eggs added to it then baked in the oven. If you follow this recipe you to will be able to whip up a souffle with no fuss at all.
For 4 people
30g plain flour
20g butter plus a little extra for the moulds
250ml hot milk
200g peas (if using frozen defrost first)
5 eggs yolks and 6 egg whites
100g grated parmesan plus a little extra for the moulds
Sea salt and freshly ground black pepper
Grease four large ramekins (10-12cm in diameter) or one large 2 pint soufflé dish with a little softened butter and sprinkle with Parmesan. Preheat the oven to 200C.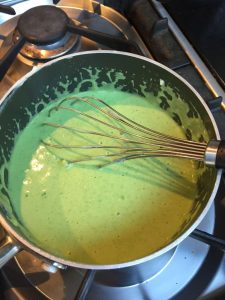 To make the sauce, melt the butter and stir in the flour and cook for 1 minute over a low heat. Stir in the hot milk and bring to the boil whisking vigorously to smooth out any lumps. Cook over a gentle heat for two minutes then stir in the grated cheese and mix well.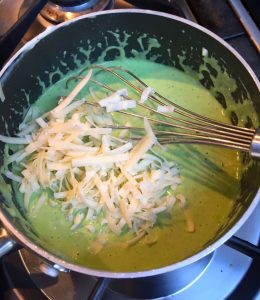 Add the peas and blitz in a blender until smooth. Season the sauce with salt and pepper.*
Beat in the egg yolks one at a time.
In a large clean bowl whisk the egg whites till they form soft peaks then add a good pinch of salt and whisk again until just firm (you should be able to turn the bowl upside down without the whites falling out). Take a large metal spoon and fold a spoonful of egg white into the cheese mixture. Then carefully fold the cheese into the egg. Take care not to over stir to it will knock the air out and prevent the soufflé from rising.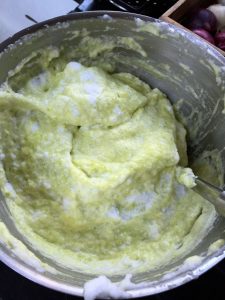 Fill the moulds and smooth over the top with a knife.
To make a cleaner rise it is a good idea to run your thumb around the rim of the mould which will allow the soufflé to rise up evenly. Place in the middle of the oven and turn down the temperature to 190 oc (if using a fan oven turn it down to 180 oc). Cook for 12-15 minutes for individual soufflés and 20-25 minutes for the large one.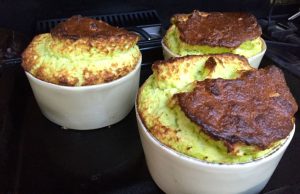 Serve immediately with a crisp green salad.
*You can make up to this stage in advance.