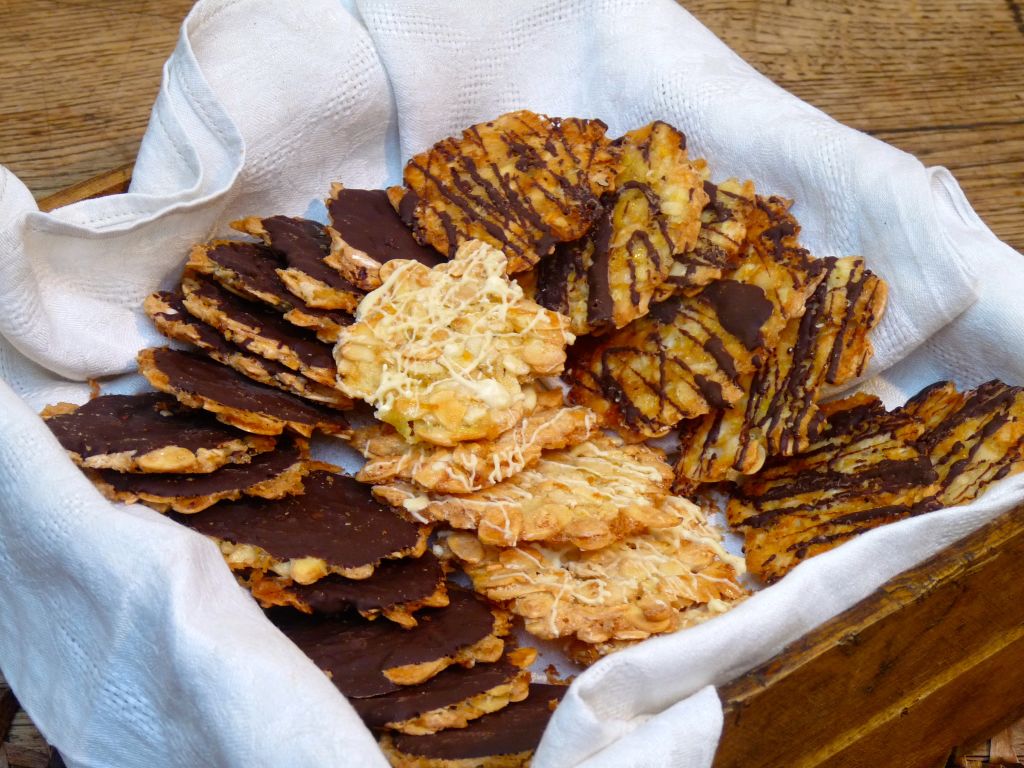 At this time of year the shops are flooded with all sorts of Christmas goodies enticing us to spend even more money…as if Christmas isn't expensive enough! So this year I have decided to make a few gifts instead. Although they may not end up much cheaper, the amount of love and effort put into these gifts makes them far more appealing. Earlier in the year I made some orange gin using Seville oranges. This has now matured and makes a refreshing alternative to some of the ususal Christmas 'stickies' on offer. The rosemary and lemon salt is another great gift (best made in the summer after pruning back the herbs and leaving them to dry out in the late summer sun). Homemade biscuits are always sought after especially at Christmas when there are plenty of extra mouths to feed. These Christmas florentines are deliciously chewy and nutty encapsulating the essence of Christmas, with a hint of orange and drizzle of chocolate they are the perfect Christmas treat.

To make 36-40 Florentines.
300g flaked almonds
150g icing sugar
zest of an orange
3 egg whites
2tsp hazelnut or groundnut oil
Optional addition of 80g chopped dried cranberries
150g of melted white,dark or milk chocolate (melt the chocolate in a bowl over simmering water)
Preheat the oven to 160oc
Cover two large baking trays with baking parchment and lightly grease paper with the oil.
Place all the ingredients except the chocolate in a bowl and carefully mix together.  Drop a heaped teaspoon of the mixture at regular spaced intervals on the parchment (leaving a 5cm gap between each biscuit). Dip the back of the spoon in cold water and spread the mixture as thinly as possibly making sure that the biscuits do not touch. You may need to cook these in batches depending on the size of your oven.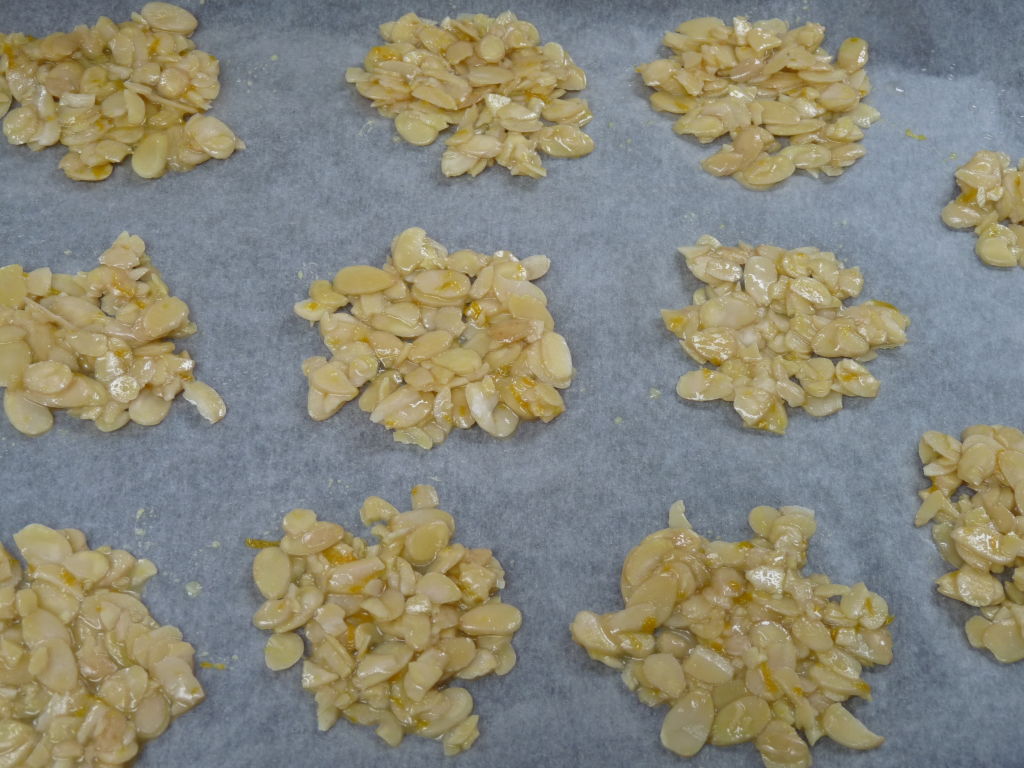 Cook the florentines in the oven for 10-12 minutes until golden brown. Remove from the oven and using a turner or fish slice, gently press down on each biscuit and leave to cool.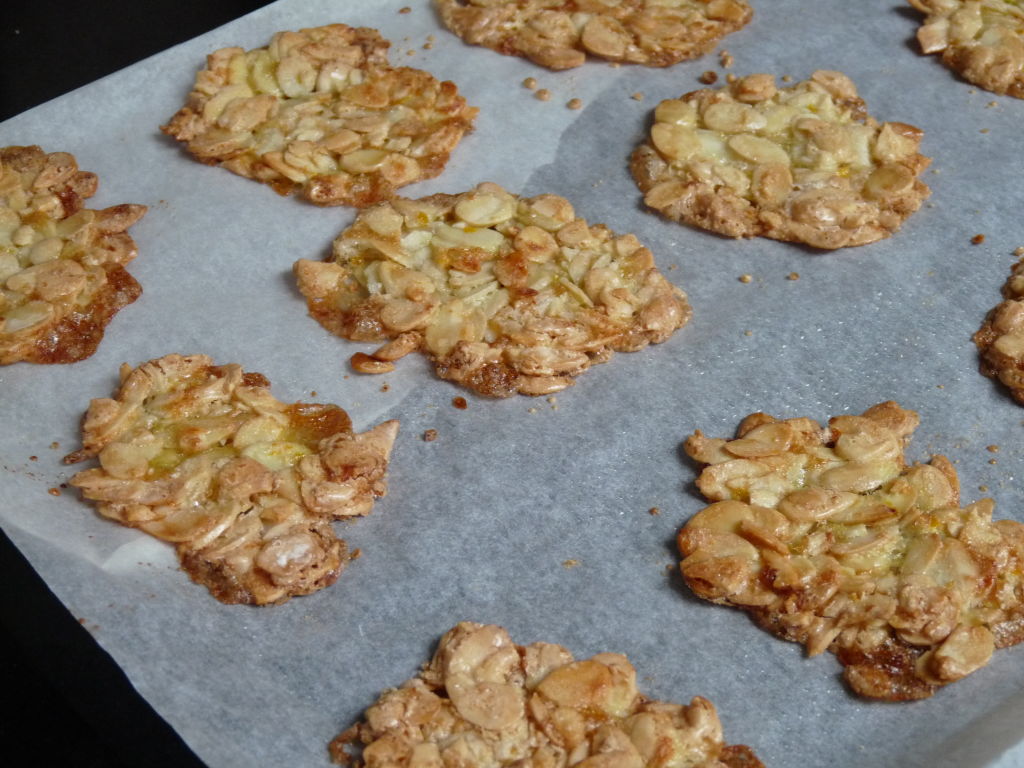 When the biscuits are cool take a teaspoon full of melted chocolate a using a gently flicking motion drizzle the chocolate over the biscuits.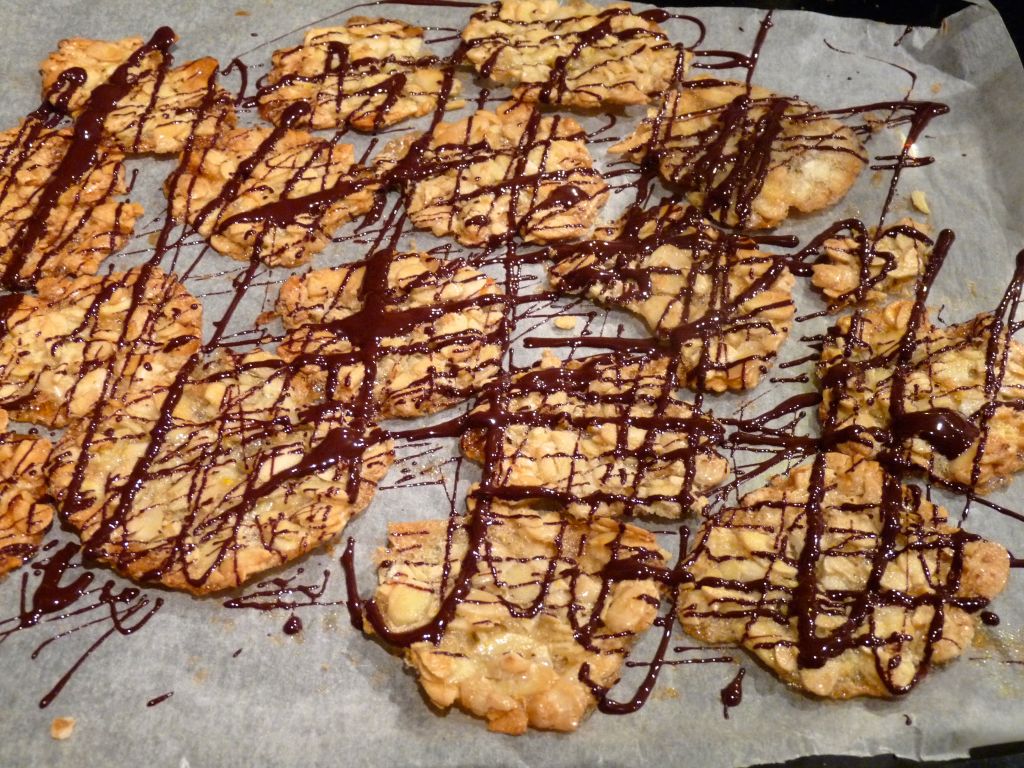 Leave to cool before carefully removing them from the parchment. Store in an airtight container/biscuit jar for up to a week. (Though mine have usually lasted only a couple of days before they are are all gobbled up!)