Sunday lunch wouldn't be complete without a really good dessert to finish off with before you flop in front of a good movie or step out for a hearty walk if you are so inclined…
I have made many apple tarts over the years and this one has got to be one of my most popular. A wafer thin crisp of pastry, topped with a rich smooth apple puree then delicate thin layers of apple on placed on top. It looks fantastic and is incredibly easy to make. I usually use the shop bought all butter puff pastry as it tastes really good and quite frankly I'd rather have a lie in on Sunday morning than make my own puff pastry!
1pkt   ready rolled puff pastry( all butter preferably)
3 -4        large cooking apples
4-5      dessert apples (granny smith )
4tbs    sugar
60g butter melted
2tbsp apricot jam sieved and warmed with 2tsp water
Pre heat the oven to 190 o c.
Place the pastry on a large baking sheet, prick lightly with a fork and cook in the oven for about 8-10 minutes till golden brown. Turn the pastry over and cook for a further 2-3 minutes till golden. Remove from the oven and leave to cool.
To make the apple puree, peel, core and chop the cooking apples. Cook in a pan with two tablespoons of the sugar and a tablespoon of water. Cover with a lid and simmer for about 5 minutes till the apples are soft. Remove from the heat (sweeten if necessary to taste)  add half the melted butter and whisk for a minute till the puree is smooth and  leave to cool.
Peel, core and quarter the dessert apples. Finely slice. Assemble the tart by spreading the puree on top of the pastry and carefully arranging the apples slices on top. Brush the apples slices with the remaining melted butter and sprinkle over the sugar. Cook in the top of the oven for 15 minutes till the apples begin to brown.  Remove from the oven and glaze with the apricot jam. Serve with cream or  salted caramel ice cream.
Serves 8 -10 people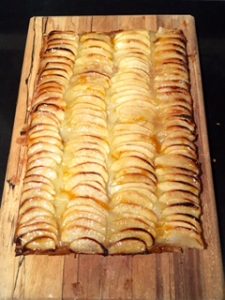 I shall be posting a blog on ice cream soon.