A few of my friends are gluten free and  often complain how they miss out at parties especially when it comes to the cake! Now to make matters worse, one of them is lactose intolerant as well. Always up for a challenge I went into the kitchen and started baking.
There is no point in making (and eating)a cake unless its going to be delicious, why bother with the unnecessary calories? However make a good cake, a 'curl up on the sofa with a slice and a cup of tea and all your problems seem to melt away kind of cake'.  Now that's really worth the effort.
Chocolate cakes in particular have certain special criteria;  they should be lusciously rich, dark, moist and even a little bit gooey in the centre. If you're feeling really indulgent, coat them in a chocolate ganache for ultra decadence.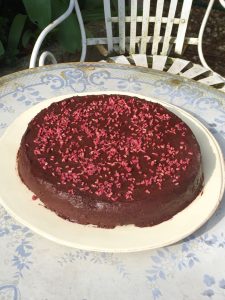 So back to the challenge. I used ground hazelnuts in the cake which keep the cake nice and moist and then for added richness  (and more gooeyness) I added grated beetroot. This has the added advantage of using less sugar in the cake than I would normally, as beetroot is naturally sweet so it's healthier too. Always use dark chocolate which has at least 70% cocoa solids to ensure it is dairy free.
Chocolate hazelnut and beetroot cake
Difficulty: easy          Portions:10-12
200g dark chocolate (min70% cocoa solids)
150g ground hazelnuts
2 medium sized raw beetroot, peeled and grated
4 eggs
150g castor sugar
1tsp baking powder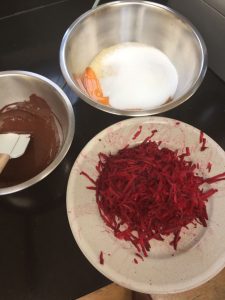 Line a  9″ / 22.5cm loose bottomed round cake tin with greaseproof paper and brush lightly with hazelnut (or light olive oil). Preheat the oven to 170oc. or 160oc for fan ovens.
Melt the chocolate in a bowl over simmering water.
Whilst the chocolate is melting, beat the egg yolks with the sugar till pale and thick. Fold the beaten yolks into the melted chocolate with the hazelnuts, beetroot and baking powder, taking care not to over mix (as this will knock out the air). Beat the egg whites till stiff then carefully fold into the chocolate mixture. Place the cake mixture into the lined cake tin and bake for 30 minutes in the centre of the oven till cooked. ( To test if it is cooked, prick cake with a toothpick and it should come out clean, if not bake a little longer.) Remove from the oven and leave to cool.
Chocolate frosting
100g dark chocolate
30g butter (can be omitted for non dairy eaters)
50g icing sugar
1-2tbsp hot water
Melt the butter and chocolate in a bowl over simmering water and stir in the icing sugar  and water. Mix well  and pour over cake and spread evenly with a knife.
I added a sprinkling of freeze dried raspberries over the top for a little colour.