Most people like to have a cooked breakfast on occasion particularly at the weekend after a big night out or  when enjoying a  lazy Sunday morning in bed.  There's nothing better  than cracking an egg or two making some scrambled eggs on toast,  poached eggs and bacon or a full English. That's what weekends are made for. However it wasn't until this week that I fully appreciated the humble egg.
I've just come back from visiting some friends of mine in Bath who keep chickens and  what a revelation it was. I had no idea how passionate chicken rearers are. In fact my girlfriend on her only day off this week  was spending it at a city farm learning how to keep chickens! Its not just about  being able to pop out and pick up a fresh egg or two for breakfast;  you have to nurture your chickens in order to ensure that you get a good supply of eggs. I was impressed!  So I thought I'd pass on a few chicken tips.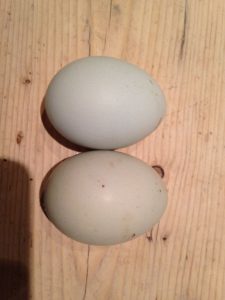 These green eggs are from two cream leg horn cross hens which my girlfriend hatched herself (by taking some taking some fertilised eggs and placing them under a broody hen). One lays an olive green egg, the other  a mint green egg! The dark brown eggs  below are from a young speckled Moran (called Jemima)and the cream coloured eggs are from a light Sussex (called Rosebud).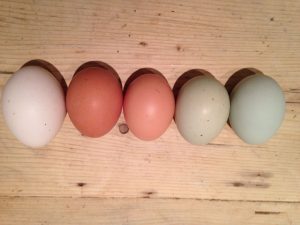 If you look after your chickens  properly they should produce fresh eggs from now until late autumn.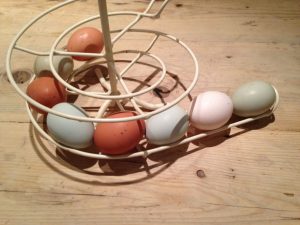 My girlfriend kindly gave me a box of eggs laid that morning to take home so I had to cook something right away in order to fully appreciate my wonderful fresh eggs.
 Parmesan and spinach omelette
difficulty: easy             Serves 2
5 eggs
2 handfuls of spinach blanched and squeeze out all excess liquid
2-3 heaped tbs of freshly grated Parmesan
A small knob of butter
Sea salt and freshly ground black pepper
Beat the eggs together and season them with salt and pepper.
Place a medium sized non stick frying  over a medium heat and add the butter. When the butter has melted and starts to sizzle pour in the eggs. As soon as the eggs start to cook, take a fork and drag the egg towards the centre of the pan, making sure there are no gaps. When the eggs are almost cooked sprinkle over the Parmesan then dot the omelette with spinach. When all the egg is  just set. Remove the pan from the heat and using a spatula carefully flip over one half of the omelette then gently slide onto a plate. Cut the omelette in half placing  half on another plate. Serve with a tomato and basil salad.