British summer finally arrived in full force this week. In fact, the temperatures rose to an incredible 41C on centre court yesterday, surpassing most of Europe. If truth be told us Brits aren't used to such extreme heat. Normally at the first sign of the sun starting to peep out from the clouds, the barbecue gets dusted off and the smell of sizzling sausages and burgers wafts all over the British countryside. However yesterday was just too hot for a barbie.
Still, a girl's got to eat and although I didn't fancy doing much cooking yesterday it didn't mean that I was going to skimp out on making something tasty to eat. I have been munching on loads of vegetables recently as my vegetable patch is flourishing, but it's good to add a bit of protein every so often to balance it out. My kale is particularly good at present so I have been using it as the core ingredient of many dishes. Kale crisps have now become more popular with the kids than normal ones! If you are lucky enough to grow your own kale you can you the young leaves which are much more tender and are delicious quickly sautéed with a little garlic and olive oil.  Larger older leaves (often sold in bags ready chopped in the supermarket) are best prepared by removing the coarse stalk and massaging the leaves with a little olive oil first. This will soften and tenderise the leaves making them much tastier to eat.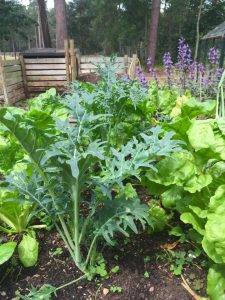 Healthy salad of sweet miso grilled salmon, kale and beetroot
Packed with omega 3 this salad is a great quick and healthy lunch for one. It also can be made up to an hour in advance if you have a few mates around. Just make sure you serve it at room temperature to preserve all the flavour.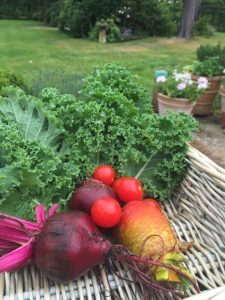 Difficulty : easy                Serving : 1
1 salmon fillet
1 handful of kale
1 handful of cherry tomatoes cut in half
1 beetroot
juice of 1/2 lemon
1-2 tsp olive oil
sea salt and black pepper
1tbsp sweet miso sauce *

*For this recipe I have used the sweet miso sauce from my black salmon with sweet miso recipe "Black" salmon with sweet miso
Spread the sweet miso sauce over the salmon fillet and place on some foil. Turn the grill up to 250C and grill the salmon for 6-7 minutes until the salmon has turned a dark golden colour, turn off the heat and open the oven door. Place the kale in a bowl and add the oil, lemon juice and a little sea salt and black pepper. Massage the leaves well to tenderise them and make them super tasty. Peel the beetroot then coarsely grate into the salad. Add the tomatoes. Finally using a fish slice remove the salmon fillet from the foil and break into 4-5 pieces and add to the salad and serve.