One of the wonderful things about cooking is that you can have a favourite recipe and cook it many times, and each time you make it, it can taste slightly different, depending on which ingredients you have to hand. This summer one of my  favourite recipes has been gnocchi. Honing the recipe each time in search of the perfect gnocchi, I have experimented with nettles, spinach and kale sometimes using a mixture of all three. Broccoli is also good with a little more of a delicate flavour than spinach or kale (it has less of  a mineral taste).
My kids gave this recipe 10/10 as it ticked all their taste bud  boxes. Comfort food in a bowl but very light and extremely tasty. They can't seem to get enough of them ("little pillows of lusciousness" said my daughter).
Ricotta and spinach gnocchi with tomato and courgette
Difficulty: medium                          Serving :2
3 large handfuls of spinach
250g fresh ricotta
2tbsp plain flour
3tbsp grated Parmesan
2 egg yolks
1tbsp chopped fresh oregano leaves
Sauce 
1 courgette diced
2 handfuls of cherry tomatoes halved
1 clove garlic crushed
1 handful of basil leaves roughly chopped
1 tbsp olive oil
Cook the spinach in a little water for 2-3 minutes until the leaves just begin to wilt. Drain and refresh in cold water then squeeze out the excess water. Blitz the spinach with the egg yolks and oregano till smooth and place in a bowl. Add the  ricotta and a little salt and black pepper and beat well. Sieve the flour into the mixture then add the Parmesan and carefully mix together.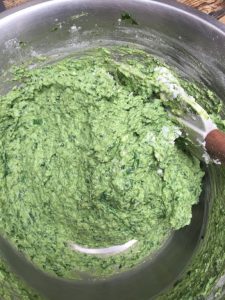 Using two teaspoons shape the gnocchi into quenelles and place on a tray lightly dusted in flour.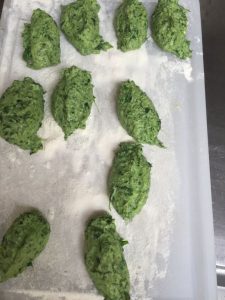 To make the sauce fry the courgettes in the oil till they begin to colour then add the tomatoes and garlic. Cook for 3 minutes until the tomatoes begin to soften then season with salt and pepper. Remove from the heat and add the basil and keep warm.
To cook the gnocchi, bring a large pan of water to the boil then turn the heat down to a simmer. Carefully place a few of the gnocchi in the water (it is better to cook the gnocchi in batches  so as not to overcrowd the pan). As soon as the gnocchi have risen to the surface (about 1-2 minutes) carefully remove them with a slotted spoon and place on kitchen paper to drain.
To serve, heat the sauce and add the gnocchi . Toss carefully in the sauce and grate a little more Parmesan over the top and serve.