I am often being asked for "use up what's in the fridge recipes", which are quick, simple and also healthy and tasty too. Frittata or omelettes are a great vehicle for this as you can add all sorts of leftover vegetables that you may find lurking in the bottom of your fridge! It's also very quick and cheap to make.
I usually allow 2 eggs per person and you can vary the cheese to whatever you have available. Hard cheeses such as Parmesan, Pecorino or Cheddar should be grated. Softer cheese like goats' cheese, roquefort or feta may be crumbled over the top at the end. If you are making a frittata for more than one person, you will need to put it in the oven for a minute or two to set the eggs.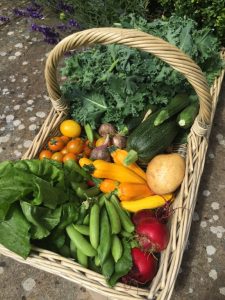 Courgette, Pecorino and basil frittata for one
Difficulty: easy               Serving: 1
2 eggs
1 medium sized courgette sliced
1  small handful of basil leaves torn
1-2tbsp grated Pecorino cheese
sea salt and black pepper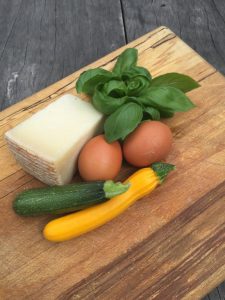 Take a small frying pan (about 20cm diameter), add a teaspoon of olive oil and quickly fry the courgette slices over a medium heat until they start to colour. Beat the eggs in a bowl, season with salt and pepper and add to the frying pan. Turn the heat down to low and cook for 2-3 minutes loosening the eggs from the sides with a fork. When the eggs are almost set, sprinkle over the cheese and basil. Cook for 30-60 seconds until the eggs have just set. Carefully slide the frittata onto a plate and serve with a little extra grated Pecorino over the top.