There was a break through in my culinary skills this week as I have finally managed to convert my husband and son to the merits of couscous. In fact they enjoyed it so much that they have put in a request for more!
Couscous is a great cheap carb which is quick to prepare. However  when served just on its own, it can be rather bland and dull, but pimp it up with some roast vegetables, freshly chopped herbs, fruit or nuts you will immediately transform it into something incredibly tasty and delicious. It can be served hot or cold and keeps well in the fridge so you can cook off a large batch at the beginning of the week and transform it into different dishes over the coming days.
Giant couscous, peach, pomegranate and pistachio salad
Difficulty: easy                                            Serving:4-6
200g giant couscous
1 pomegranate
2 ripe peaches or nectarines
80g shelled pistachio nuts/or pine nuts
2 medium courgettes cut into diced sized cubes
1 tbsp toasted sesame seed oil
1 small bunch flat leaf parsley and 1 small bunch mint chopped
2 tbsp pomegranate molasses*
2 tbsp olive oil
sea salt and black pepper

* Bottles of this can be found in most large supermarkets and delicatessens.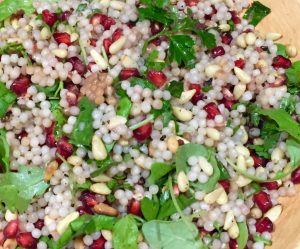 Fry the couscous in a tablespoon of the olive oil then pour over 400ml of boiling water and leave to stand for 15 minutes until it has swelled, the grains have softened and all the water has been absorbed.
Heat a tablespoon of olive oil in a frying pan and quickly fry  the courgette over a medium to high heat for 3-4 minutes until they turn a golden colour and just begin to soften. Remove from the heat and place in a bowl.
Skin the peaches by pricking them once with a knife, place them in a small bowl and pour in boiling water until they are fully submerged. Remove after 45 seconds and peel off the skin (if using nectarines you do not need to do this). Cut in half, remove the stone and cut into slices and add to the bowl with the courgette.
Toast the pistachio nuts in a dry pan for 1-2 minutes until they just begin to colour then remove from the heat and leave to cool.
Cut the pomegranate in half, bash out the seeds and add them to the peaches with the chopped herbs and couscous. Stir in the sesame oil, pomegranate molasses and remaining olive oil and season to taste. (Adding more molasses/oil to taste if necessary.) Coarsely chop the pistachio nuts and stir into the salad. Place on a large plate and serve with barbecued lamb or chicken. This is also great on its own for a light lunch.